​Saand Ki Aankh teaser is Awe-Inspiring and Poignant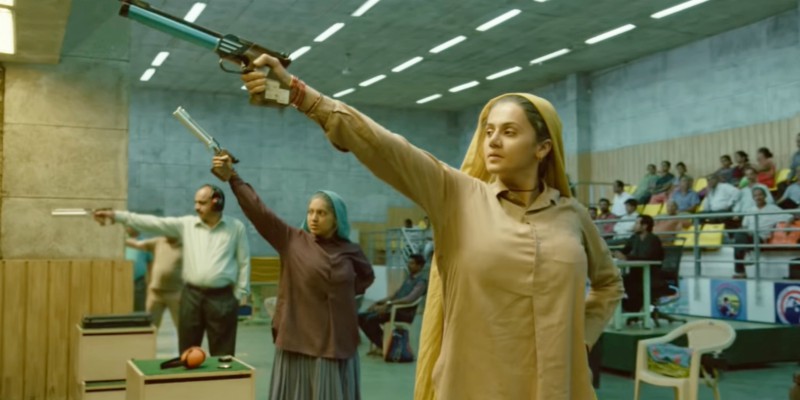 The gripping, fun and awe-aspiring teaser of Saand Ki Aankh is out, Starring Taapsee Pannu and Bhumi Pednekar as Prakashi Tomar and Chandro Tomar respectively, the film shines a light on these two brave women who looked patriarchy in the eye, and set the foundation of a 'rifle club' that produced an estimated 352 medals.
Actress Taapsee Pannu dropped the first official teaser on his social media profile. She captioned it, "यो तो बस सुरुआत है, क्यूँकि तन बुड्ढा होवे है मन बुड्ढा ना होवै #SaandKiAankhTeaser @bhumipednekar @prakashjha27 @ItsVineetSingh @tushar1307 @anuragkashyap72 @Shibasishsarkar @nidhiparmar @RelianceEnt @realshooterdadi @shooterdadi @ZeeMusicCompany"
The teaser for Saand Ki Aankh is out and it tells the story of two middle-aged women from a tiny village of Johri, and their exploits in sharp-shooting. Fondly known as the 'Revolver Dadis' in their village, theirs is a story of defiance and courage.
An amazing subject with stellar performances, this is probably the finest women empowered film ever made in Bollywood. Both the actress have worked really hard to get into their respective characters and it shows!
Saand Ki Aankh also stars Vineet Kumar Singh and Prakash Jha in important roles. It's going to be an important film if it succeeds at the box office and moves its audience.
The film is produced by Anurag Kashyap, Reliance Entertainment and Nidhi Parmar. Initially, the film was titled Womaniya but due to the controversy over legal rights of the title which is held by Pritish Nandy Communications, the film was renamed as Saand ki Aankh.
The film is slated for the 25th October 2019 release.