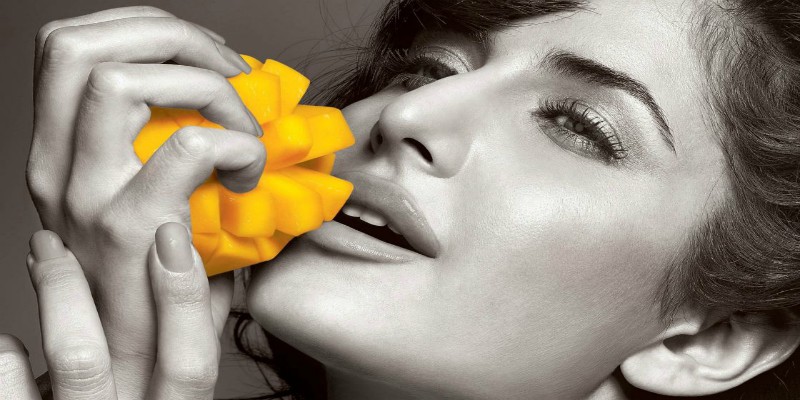 Mango – The "King of fruits" has been around for at least 6,000 years and it is the National fruit of India.
Mangoes are native to South Asia, from where it was distributed across the world for cultivation. Mango is a low-calorie fruit that is high in fiber and is a great source of vitamins A and C. It also contains folate, B6, iron and a tiny amount of calcium, zinc, and vitamin E. Mangoes are a good source of antioxidants, containing certain phytochemicals such as gallotannin and mangiferin. It has numerous benefits when consumed in acceptable limits.
Eyes: One cup of chopped mangoes provides about 25% of the vitamin A needed by the body per day. This is good for eyesight. It also prevents evening eye and dry eyes.
Acne: Mangoes help soothe acne. This is because it helps relieve cracks and dirt from clogging in the skin. Once these begin to open, the acne will slowly begin to subside. The best way to stop acne is to remove clogged cavities. They combat acne and clear up clogged pores by reducing the secretion of oil on the skin. You don't always have to eat mangoes to enjoy this benefit. Just go pick a mango, get the pulp, apply and massage it on your face for 10 minutes.
Increase body weight: If you eat mango, you can gain weight easily. 150g of mango contains 86 calories. This will attract the body easily. Also, carbohydrates in mango can convert it into sugar, which can help you gain weight.
Blood pressure: The content of vitamins in mango is very high. It helps us maintain good health always. Mango is a natural medication for patients with high blood pressure, which are rich in potassium (4% in 146 milligrams) and magnesium (2% in 9 milligrams).
Cholesterol: Because the mango has a lot of pectin soluble fiber, it helps to reduce the amount of cholesterol in the blood. It is also good for those who suffer from high blood pressure as it has high amounts of potassium.
Digestion: Mangoes play an important role in solving the problems of digestion and acidity. The digestive enzymes in mango help to normalize the process of digestion.
Anemia: Because of the high iron content in mangoes, it is very good for people with anemia. Eating mangoes regularly and in sufficient quantities can increase the blood level and correct the anemia.
Aphrodisiac in nature: If you want to improve your sex drive, eat mangoes. They are rich in vitamin E which has known to improve your sex drive, increase sperm quality and protect sperm damage.
Pregnancy: Pregnant women need iron, so they need to eat mangoes. Doctors usually prescribe iron tablets during pregnancy. Instead, it is best to eat rich iron-rich mangoes, if it is available.
Instant Energy: Some people lose strength in a short period of time due to nutritional deficiencies. Mangoes have many vitamins and minerals that the body needs, and those who eat it get instant energy.
Anti-aging: Vitamin A and Vitamin C, which are high in mangoes, help to secrete collagen. Collagen helps to protect blood vessels and connective tissues in the body, thus preventing the appearance of aging.
Cancer: Pectin in the mango will also prevent prostate cancer. It has antioxidants that protect the body against colon, prostate, leukemia and breast cancers.
Diabetes: According to some studies, mangoes are a natural remedy for diabetes. Due to the sweetness of mangoes, the belief that sugar should not be eaten by it has long been present. But now it has been proven to be false.
Nutrition value of Mango in 100 gms: Calories 65, Fat 0.27gms, Carbohydrate – 17gms and protein – 0.51gms