A curse transformed into Mini Desert!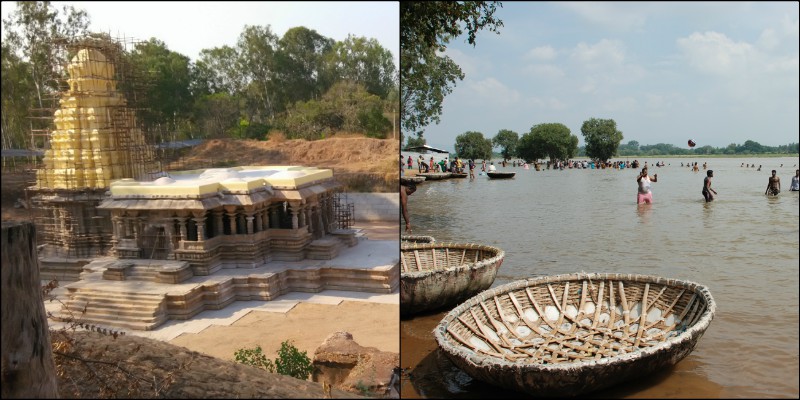 Prod into the Mini Desert of South India!
And Yeah! There is a desert in Karnataka. Talakadu is literally a desert town located on the left bank of the Kaveri river. It had earlier inhabited sum of 30 temples which is now buried under the sand. It is assumed that a curse by a lady named Allemelamma has been metamorphosis into a place called Talakadu. The curse of Talakadu can be put forth as "Talakadu Maralagi, Malangi Maduvagi, Mysooru Arasarige Makkalagadirali" and it is later translated as "May Talakadu be filled with sand, let Malangi become whirlpool and Mysore Kings shall not have children." People haven't believed this practice and it doesn't give any sense at all. However, it is mysterious to witness the place filled with sand. Somehow, the curse story of Talakadu has been a strong belief for over the years.
Talakadu on the bank of Kaveri river is a mysterious spot and it is an ideal place for weekend trips for the people out there. It is around 140 km from Bangalore and it will take a day to view the stupendous place in Karnataka. When you enter the place full of sand you will wonder whether you are at the river bank or beach. Talakadu is also popular for five Shiva temples and as mentioned the other temples are said to be buried under the sand. The Pathaleshwara Temple, the Maruleshwara Temple, the Vaidhyeshwara Temple, and Mallikarjuna Temple are the five faces of Lord Shiva at this natural sand filled place.
Coracle rides in the serene river Kaveri are one of the best things you should experience here. There are as many as whirlpools right here and so be careful when you play in the water. There will also be restricted places to get into the water. If you really wanted to spend extra days at this place and by now you can stay in a resort nearby or then head to Talakadu Jaladhama Resort which in turn also adds limitless fun activities and good accommodation at affordable prices.
The few visitors who get to know about this mysterious spot will crowd here whereas it is not as popular as other places. This is why it is unknown and hidden place out there. How many of you would really have knowledge about this Mini Desert in South India? Maybe only a few individuals might have known and visited this place. Its never late and you could plan a trip to seize the moment right here.
See Also
The incredible architecture of the temples will give you stirring experience. Haven't you visited a desert yet? Start with the mysterious "Mini Desert of Karnataka." Let's get dwelled into the history of this Sand Town!