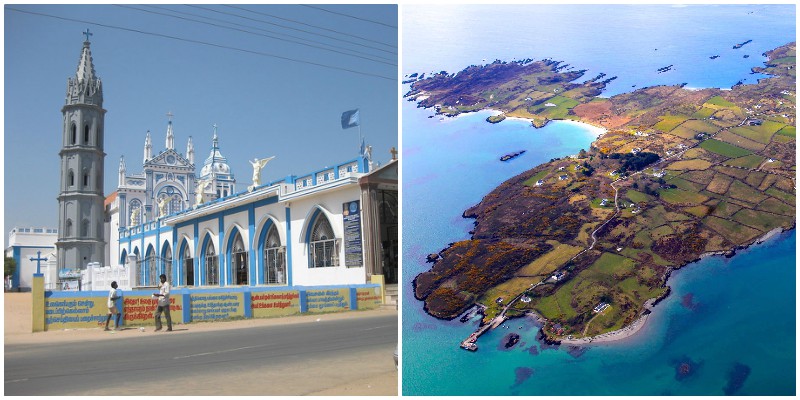 Hare Island – Muyal Theevu
People who would like to travel alone or with their favorite persons can choose this Pearl city or Tuticorin. Particularly, Hare Island which is located in Tuticorin and it is the part of the Gulf of Mannar. It is known as a famous picnic spot for holiday hunters. The place where Nature is abundant and shower all its blessings upon you and your favorite persons. It gives merriment when you have a walk along this shore. As it is connected through the road now, it is no more Island.
The evening is the best time to visit this shore because the salty air will give relaxation in your mind. Let me share my experience with this place. It is hour travel from Tirunelveli and I visited this place with my friends. The travel itself, on the whole, unfastened my heavy heart and unbuttoned my confused soul. I was really exhilarated to see the bluish friend(water) of us and in a minute I was standing on the softest sand that pedicured my foot. Every wave that touched my foot seemed to be soothing my tired soul and the salty air played hide and seek with my hair. I was literally pushed into the water by my crazy people and at last, all I took back home was memories with clear mind and soul back home. A place which taught me that "No matter how tedious a day, Nature is here to bless us with peaceful day in the end."
This place is surrounded by Thermal Power plant and salt production places nearby, where you could explore many unknown facts of Tuticorin. Specifically, you could visit 'The Shrine Basilica of Our Lady of The Snow', awe-inspiring Portuguse architecture makes the curiosity to know more about the architecture of the place. Recently, Scuba diving and Paragliding are introduced in Tuticorin. People might love to visit other beaches in Tuticorin like Harbour Beach, Tuticorin Roach Beach and Tuticorin Port is the most popular site and is the busiest place in the city. It is also known for delicious oil parotta too. Solo travelers can experience life's best part in this city and take home the best memories.
On the whole, Tuticorin will give the feel that you are being there at the right place as your home is! I would say, a city embedded with many precious places which would welcome people to explore their own self as well as the city itself. So, Tuticorin is one merryland where holiday hunters should visit at least once in the lifetime. After all, travel will take you to somewhere amazing places which would give you fascinating stories to show more than to narrate. Visit Tuticorin, explore it and feel home.