Beyond Indus, Taj Club House, August 19 – 28
It's raining potatoes at Beyond Indus, Taj Club House!  For ten days, this humble ingredient takes centrestage as the team of Chefs, led by Executive Chef Mohamed Siddiq, presents the potato in many delicious variations and flavours. The dishes are a selection of traditional and modern Indian food using potatoes, vegetables and meat, and combined expertly with cheese and fruits.
Most of the dishes are slow cooked, allowing the taste of the potato to get infused in the gravy. For starters, there is Aloo nazakat (Deep-fried potato shells marinated, stuffed with cottage cheese, nuts and potato. Baked and finish on hot plate); Angoori aloo (Zaatar spiced baby potato baked in clay oven); Aloo akhrot ki tikki (Grilled aloo patty enclosed with Crumbled walnuts); and Aloo mutter aur nadru ke kebab (Grilled patty of minced potato, green peas and lotus stem).
The main-course is exciting with some delectable dishes on the menu. The rose petal and pistachio stuffed potato dumpling in rich cashew nut gravy – Gulkand aur badam ke kofte – can certainly get your tastebuds tingling, while the Aloo baigan aur mangodi ki tikhi subzi (Potato, brinjal and Moong badi simmered in spicy onion tomato gravy) is for those who like it hot and spicy! Potato lovers cannot do without the all-time favourites Dum aloo korma (Deep fried baby potato cooked in rich tomato and cashewnut gravy) and Dahi ke aloo (Grilled aloo patty simmered in spicy yogurt gravy).
See Also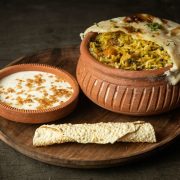 For the non-vegetarians, the menu includes Murg aloo keema (Minced chicken and potato Macédoine sauté in onions, tomato and seasoned with aromatic spices); Sindhi aloo hara murg (A sindhi style potato and chicken cooked in spinach paste); Aloo aur murg ke kofte (Minced chicken and potato balls cooked in onion tomato gravy); Salli boti jardaloo (Boneless lamb cubes , apricot cooked with tomatoes, onions and finished with fried potato sticks); and Lagan ka aloo aur gosht (Slow Cooked Creamy lamb and potato cooked in lagan).
Come experience some delightful potato creations at Beyond Indus, Taj Club House.
August 19 – 28   |  a la carte menu for lunch and dinner  |   Call  +91 44 6631 3131 for more details