Amethyst invites you to view an exclusive exhibition of BODHI by Mala Sinha from January 4th to 10th, 2022 at Amethyst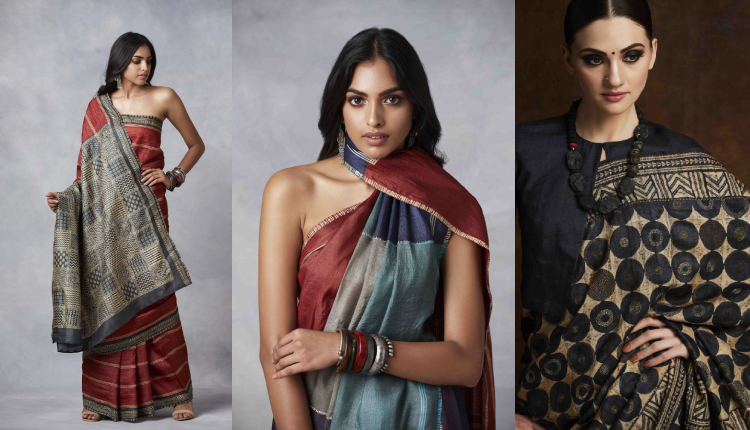 Tussar sarees that form a large part of this collection are seen in various structures and weights. These tussers have been procured from different tusser cultivating regions & from weavers clusters across the country with whom BODHI has enjoyed a long, sustained and happy association. A small collection of high-end sarees has been worked on with hand embroidery. Plain running stitch that simply follows the patterns already stamped on the surface using wooden blocks. This interplay of embroidery, superimposed on the printed surface, creates magic at many levels. Besides imparting a sensuous tactile texture, embroidery lends an interesting dimension to the otherwise flat surface associated with the printed saree. An extra bonus is that the embroidery adds a certain weight to the saree resulting in its wonderful fall and a drape that women seem to enjoy very much.
There is no one theme that binds the entire BODHI collection here. On the contrary, it comprises many tiny capsule collections that would tempt women of diverse needs and tastes by way of colours, motifs and textures. One such noteworthy collection on display is their recently designed "Corona Collection." This series well demonstrates how the recent pandemic has been a source of inspiration for designers and how this has manifested itself creatively in the form of prints and patterns on textile surfaces. Some reflections, tongue in cheek and fun and some poignant.
Besides sarees, there is a small but interesting, one of a kind "BODHI Reborn" collection on display. During those challenging months of lockdown and uncertainties, BODHI Reborn happened quite by chance and evolved organically. They in their sincere effort to remain creatively motivated and gainfully occupied, in those difficult times, they started to convert scarps and end bits of our printed and dyed fabrics collected and saved over years into useful products, yet again demonstrating that a simple product, well put together with love and care, impeccably finished has value and an appeal that can't be measured. It also reaffirmed BODHIs core philosophy and mantra to be sustainable.
BODHI Reborn is a delightful collection of tiny envelopes and pouches, bags big and small….and this and that – perfect arm candy for an art show and they could work just as well as gifts and giveaways to someone who appreciates & values "Handmade"
Brand Story:
At Bodhi, Design, Craftsmanship, Frugality and Sustainability go hand in hand to create sarees, garments, accessories and printed fabrics that have lasting aesthetic appeal as well as product life longevity
Established in the early Eighties, Bodhi is the design studio and workshop of Textile Designer Mala Pradeep Sinha located at Vadodara- Gujarat.
At Bodhi, we employ a team of highly skilled craftspeople who work in an inspiring and enabling atmosphere where frugality and sustainability are intimate parts of the design and aesthetic process. You will be happy to know that at Bodhi all wastewater generated during the process of dyeing and printing is cleaned filtered and reused.
Designer's Profile: Mala Sinha – A brief Introduction
Mala Sinha is a designer entrepreneur based in Baroda. She has a studio workshop that houses facilities for hand printing, tailoring & embroideries. These products are sold with her label BODHI In India as well as abroad.
Mala has worked as a research assistant with Dr Lotika Varadhrajan for her book "South Indian Tradition of Kalamkari." She has also worked as a research assistant as well as a travel companion to Yoshiko Iwamoto Wada – president -World Shibori Symposium – while she was in India as a full bright scholar – to research for the Indian traditions of tie-dye & Bandhani.
With a keen interest in design education, she is a visiting faculty at the National Institute of Design, the Indian Institute of Crafts & design as well as the National Institute of Fashion technology. She is also invited as a member of the jury for the diploma projects. Mala has been working as an external examiner for the past three years at the Pearl Academy of Fashion – Delhi & Jaipur.
Member of the Fair Trade organization, she has been invited to Italy to speak about Indian crafts.