BIRKENSTOCK 1774 CELEBRATES UTILITY MEETING LUXURY IN ITS SECOND DROP, INCLUDING UPDATED ICONS AND BOLD NEW STYLES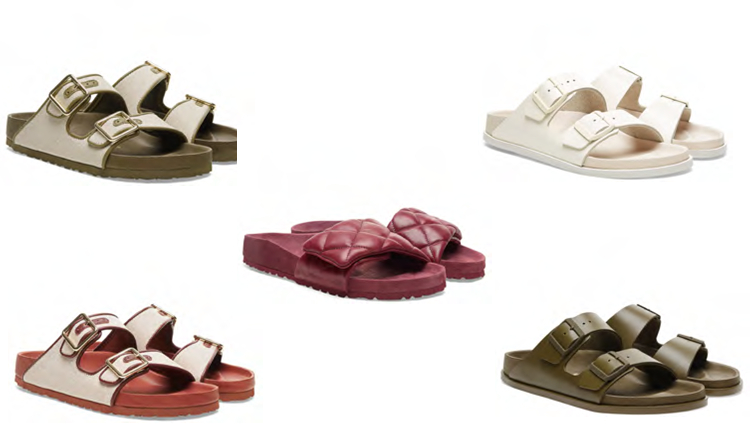 Arriving February 2022, BIRKENSTOCK 1774 embraces new styles in the second batch of its 1774 Collection. In conversation with the elegant reinventions of 1774, the new collection reinvents fabrication and style to create a new wardrobe where utility meets luxury. By rethinking materials and form, the brand's craftsmanship reemerges in new and innovative ways. Sartorial ideals collide with functional trademarks, for updates on the classic Arizona and Boston that reflect the brand's focus on urban exploration. Channelling an everyday elevation of luxe craftsmanship,
BIRKENSTOCK 1774 introduces the Sylt padded leather sandal, introduced in vivid vanilla, olive, and oxblood colourways, beautifully diamond quilted and completed with suede lining. Fusing custom design with avant-garde style, BIRKENSTOCK 1774 cements its status as a house of continual innovation, evoking the zeitgeist while summoning a new spirit for the brand.
Capturing newfound freedom, these styles show luxurious design both as a state of mind and a measurable property.
By fusing functional wear with a new vision of craftsmanship, BIRKENSTOCK 1774 finds its ultimate expression in this new drop.
THE COLLECTION
Arizona Structured Nappa
The unrivalled Arizona. BIRKENSTOCK 1774's timeless design drops for the most novel vision of 1774. High-end execution comes in an ultra-refined colourway, that unites luxury and functionality in a novel way. Stand out and step forward for a contemporary vision of thoughtful and high-quality design.
Arizona Canvas
Redesigning the classic Arizona style with the versatility of canvas, french piping, and footbed made of nappa leather. Simplicity and functionality are essential to this stylish Arizona update; crafted with the custom comfort of our moulded footbeds, the Arizona Canvas unites style with our celebrated design.
Sylt
The stamp of luxury, emphasised with craftsmanship. BIRKENSTOCK 1774 evolves into a padded leather sandal, made with tonal lining and soft quilting for a piece to elevate the everyday. Essential and elegant, Sylt arrives in three vivid colourways for a symphony of harmonious moods.
Arizona
A novel vision of the unbeatable Arizona. The classic Arizona arrives in our update of the popular 1774 edition. Vivid and vital, 1774 has created three new colourways of the classic design. Styled for an impossibly elevated everyday, the new Arizona features a full olive, oxblood, and vanilla tone in upper, buckle, footbed, and leather sole.
The collection will launch globally on 24th of February and is available in India exclusively on www.birkenstock.in/1774 .