Clean and conscious personal care brand, The Switch Fix's "Acai of Relief Hair Mask" breaks innovative boundaries in the hair care range with its never-seen-before bar format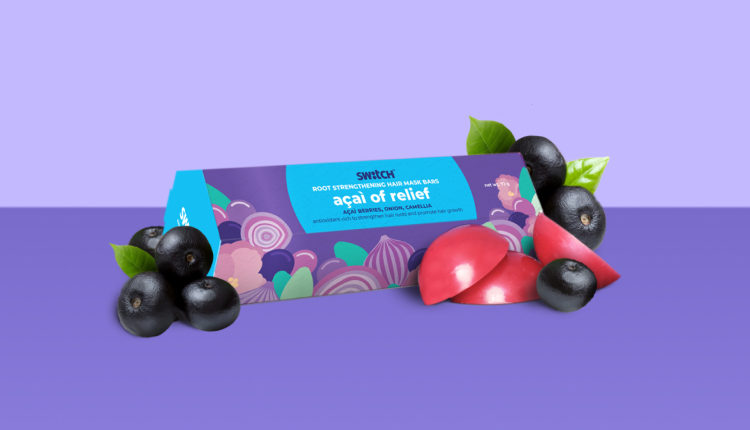 One of the leading clean and conscious personal care brands, The Switch Fix (TSF), has launched its brand new hair care product, "Acai of Relief Hair Mask Bar," to tackle hair fall. In order to make 'clean and conscious' beauty more accessible, the brand has come together with Sublime Life—an online platform that curates 'clean beauty' and will see the innovative hair mask bar available exclusively on both their websites for the first three months of the launch.
Hair fall has been and continues to be one of the biggest hair concerns faced by many. Moreover, it is exacerbated further by stressful lifestyles, rising pollution levels and extreme weather conditions caused \due to climate change. TSF created an effective fix for hair fall in the form of an inventive hair mask bar by keeping the impact of this new-age lifestyle and environmental stressors in mind. Crafted with antioxidant-rich açai berries, onion, camellia and other nourishing plant-based ingredients, the 'Acai of Relief Hair Mask Bar' helps reduce hair fall while promoting overall hair growth. It works by strengthening the scalp and hair protective barrier that supports locking in essential moisture from escaping away.
A direct connection between climate change-induced new-age stressors and hair fall exists, which is ignored by the vast majority. Although the risk posed by the sun to the skin is slowly coming to the forefront, there is limited awareness about the damaging impact of the sun's UV rays on the hair and its follicles. These harmful rays damage the cuticles and weaken the strands, making them more likely to fall out—thus, accelerating the hair loss process. Through the launch of 'Acai of Relief Hair Mask Bar,' TSF aims to help consumers understand the importance of scalp health and the adverse effects harsh sunlight or higher temperatures can have on them.
Alongside providing relief and deep conditioning to those with dry scalp or dry and fragile hair, the hair mask bar is free from harsh chemicals that can harm consumers and the planet. Moreover, these first-of-their-kind hemisphere shaped hair masks utilise less water during formulation, as opposed to their traditional alternatives. In fact, its minimal recycled paper packaging results in reduced emissions—thereby making it a sustainable choice for the environmentally conscious.
Rhea Shukla – Co-Founder – The Switch Fix, said "At The Switch Fix, we are constantly striving to offer innovative, effective and sustainable solutions to hair concerns. Our latest in the hair care range, Acai of Relief Hair Mask Bars, are not just cute to look at—they mean serious business. The hair masks' ingenious formulation, crafted with acai berries and onion extract, will truly provide our tribe with a sigh of relief from hair fall in today's era of pollution, climate change and extreme weather conditions."
Deep Lalvani- Founder – Sublime Life said, "We are very excited to partner with The Switch Fix – a brand that is disrupting the industry with high performance, innovative & sustainable beauty products. The Açai of Relief Hair Mask Bar is a first of its kind product that focuses on scalp health and helps reduce hair fall, a major concern for the consumers. It's easy to use, travel friendly, clean & works like magic!"
Apart from offering an end to hair fall woes, these hair mask bars also make for a lovely self-care ritual. As the sophisticated bar melts into a rich, creamy hair mask making for a relaxing DIY activity, it encourages you to take care of yourself all while being kind to the planet.