The festive season is upon us with the spirit of exciting celebrations in the air. India being a rich land of history, culture and heritage, jewellery has always been an embodiment of embellishment which adds to the royal splendour of decking up for the festive season. Amp up your festive look with jewellery pieces that are an ode to Indian art forms. Let each piece narrate a story reflecting a glorious canvas of an artist's imagination. This Diwali, bookmark the best styles and jewellery pieces to flaunt for that perfect Instagram-worthy photograph.
Here are some stunning versatile jewellery trends by Tanishq that you can add to your ethnic numbers for this festive season:
1. Modern Heirloom-
For those who love a regal look, modern heirloom pieces lend a vintage and royal vibe to the festive attire. In this season of lights and sparkle, let your jewellery be the hero. The timeless designs with glittering polki lend these pieces a mysterious sparkle that is sure to enhance your style appeal this Diwali. Layer this gorgeous heirloom neckpiece with traditional attires or trendy indo-western outfits for a match made in heaven.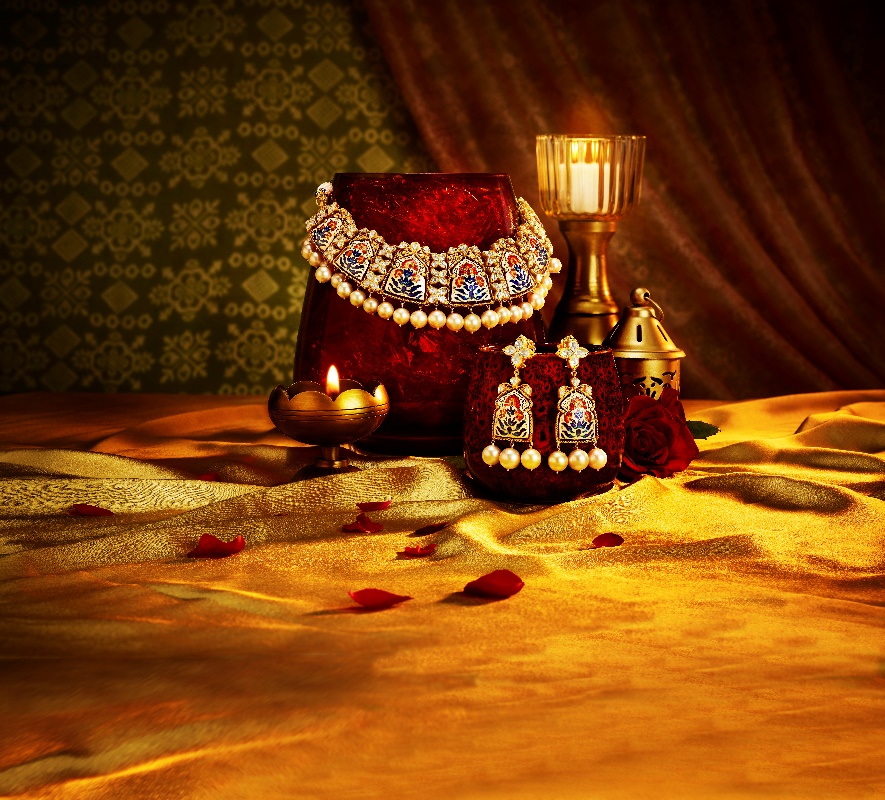 2. Sight to behold; Pastel colours-
Hues can totally transform our spirit and pastel colours are making a remarkable resurgence in jewellery trends; we're calling it the rise of joyful jewels. Blush pinks, creams, minty greens and candy colours are taking the spotlight this season. Pastel-coloured jewellery is sure to create positive vibes for all who wear it. These gorgeous pieces in a newer palette evoke the magic of festivities. It's versatile and can be styled for brunch parties or evening cocktails.
3. Stunning Enamel-
Looking for a pop of colour to match your vibrant festive outfit, neckpieces with enamel are a total hit as a royal look with a hint of modern glamour. Enamel work has covered a long and exciting journey and is surely here to stay as an evergreen jewellery trend. Contrasting colours of blue and pink preserve the liveliness of floral designs, and a detailed combination of enamel techniques such as glass, painting and chatai gives the methods a trendy yet classic touch which makes it the perfect go-to jewellery piece for the festive season.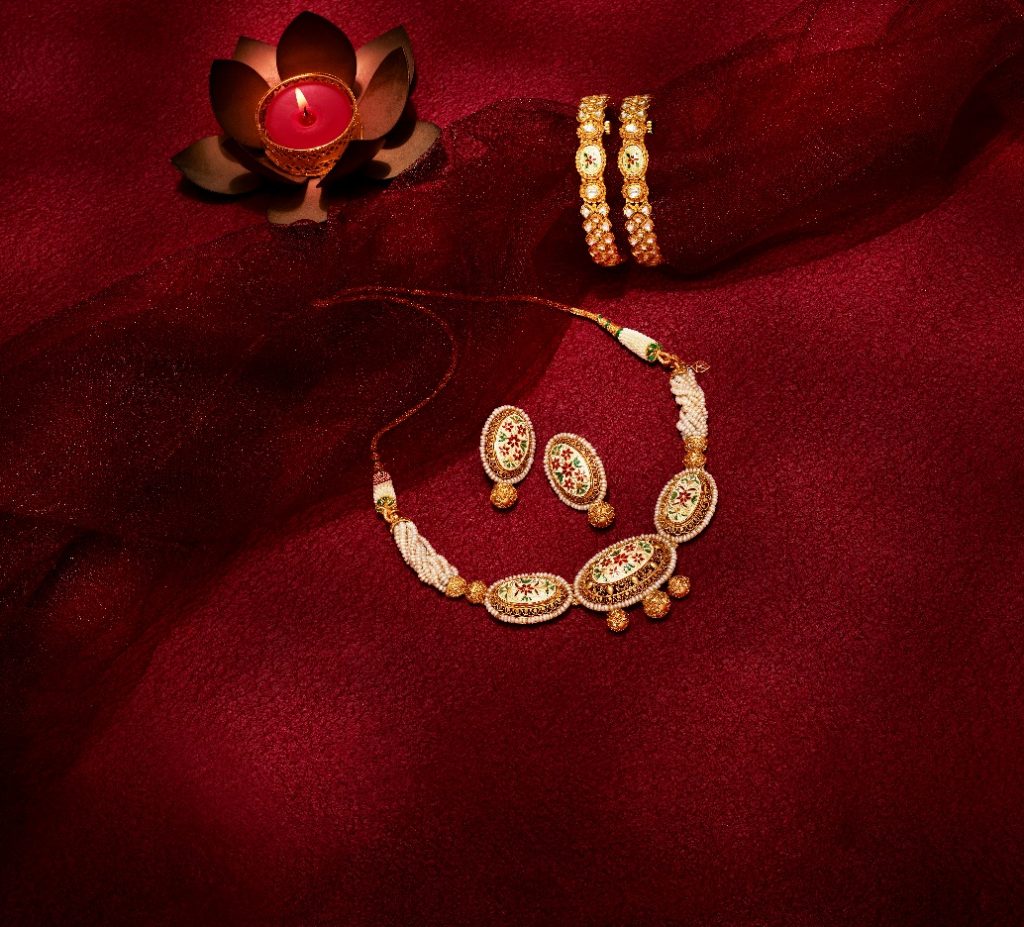 4. Pearls are back in vogue-
Pearls are definitely in and are having their time to shine again. The pearl piroi has its own old-world royal charm and with modern updates of coloured stones and enamel, its modernized contemporary silhouettes allow you to wear and style them in a variety of ways. Pearls have always been a timeless classic and perfect for any woman who exudes grace.
5. Floral motifs
With the monsoon coming to an end and little time for winter to come knocking at our doors, the festive season is the perfect time to relish the beauty of floral patterns and welcome autumn in all its glory. The beauty of nature comes alive through floral inspirations and will add layers of style and grace to any outfit you choose. Contrasting colours of blue and pink preserve the liveliness of floral designs, such as delicate lotus blooms in a calm talai. Additionally, floral motifs are versatile and is sure to look equally good with an Indian attire as well with ethno contemporary outfits.