KANKATALA OF VISAKHAPATNAM BRINGS ITS UNIQUE COLLECTION OF HAND-CRAFTED SARIS TO CHENNAI, TO ADD COLOUR TO EVERY MEMORABLE MOMENT OF YOUR LIFE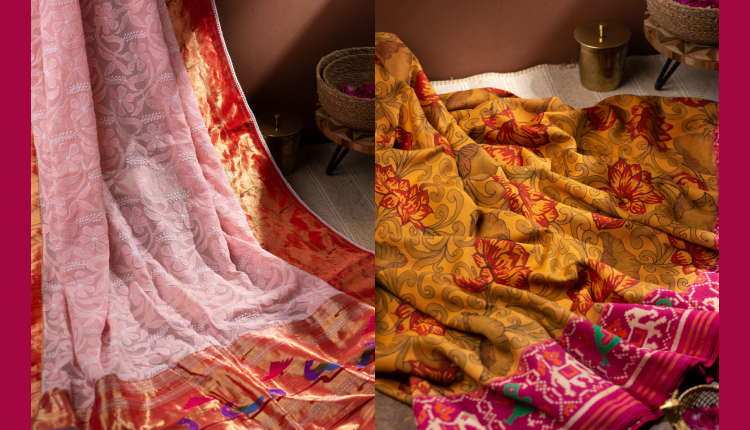 When is a Saree not a Saree?
Kankatala, renowned worldwide for their unique sarees, is back by popular demand in Chennai at a special exhibition at The Folly, Amethyst on August 25 and 26. Each hand-woven saree is a masterpiece specially woven and crafted for the discerning woman who wants something that is unique and timeless. "As every woman who understands sarees knows, we at Kankatala are extremely proud of our exclusive pieces," says the boutique's director Anirudh Kankatala. " Each one of them has been exclusively woven to perfection, seamlessly blending merging the classic opulence of Kanjivarams and the royal grandeur of Patan Patolas with the colourful vivacity of Bandhani techniques."
Apart from the spectacularly rich bridal wear collection and mesmerising Kanjivaram silks, other pieces on display include the Patan Patola range with the Asawali weave, each of which takes a year to make, as well as natural-dyed weaves, which take between 8 and 12 months to produce. Then there are the Paithanis, Banarasis, Khadis, Kotas, Linens, Organzas, Gadwals, Uppadas, Ikats and other designer sarees to match every occasion that you can think of.
Kankatala, established in 1943, is known for its hand-picked, hand-woven sarees. And as per the 75-year-old unbroken tradition, each and every piece is carefully selected by a member of the family after careful scrutiny and checking them for weave, design and fabric. This is what has made Kankatala synonymous with exquisite, unique sarees, and firmly established it as one of Visakhapatnam's most beloved boutiques over the decades, with branches across Andhra Pradesh Telangana. Karnataka and New Delhi. And they are now available for a limited period in Chennai. As Anirudh Kankatala puts its, "We can proudly declare that each piece in our collection comprises sarees which are not just sarees, but works of art."
Dates: August 25 and 26
Venue: The Folly, Amethyst, Whites Road, Chennai
Time: 10 am to 8.30 pm