Premium footwear brand Tao Paris and Designer Seema K Sajdeh, launch Wanderlust, a vibrant collection that draws inspiration from bohemian aesthetics and modern design sensibilities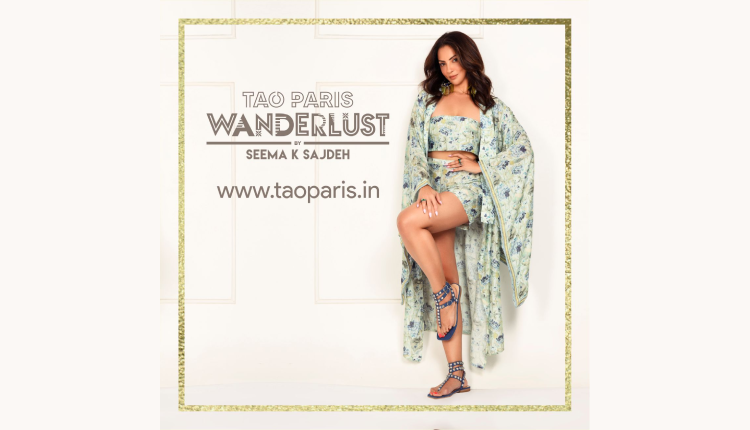 Tao Paris – a premium 'Glocal' footwear brand, today launched its stylish Wanderlust Collection in collaboration with Designer Seema K Sajdeh. The collection is here to transform everyday looks and offer a refreshing closet upgrade with undeniable refinement and comfort. Bringing home the uber-popular Coachella fashion trend in an array of colours, quirky designs and effortless footwear styles, crafted in premium materials to give the highest form of comfort.
Wanderlust wholly embodies Tao Paris's creative philosophy of relevant and sustainable fashion trends that harmonizes beautifully with the cheerful and vibrant aesthetic unique to Seema's style! The premium collection presents a unique take on a trend that's high on today's international fashion radar.
The collection, fashionably priced Rs.3500/ onward, features unparalleled charm through colour blocked flats, stylish gladiators, elegant wedges, versatile mules and uber-cool boots that lend a perfect blend of style and luxury. Wanderlust is available on https://taoparis.in/collections/wanderlust-by-seema-k-sajdeh.
Talking about the Wanderlust Collection, Aastha Mahtani, Founder & Creative Director, Tao Paris said, "As experts in the footwear industry, our forte has been to identify our customers' needs for fashionable and comfortable footwear, a balance that most brands don't offer. We look at this gap in the form of an opportunity and have over the years created designs that are functional, trendy and layered with comfort. We are elated to launch Wanderlust with the supremely stylish Seema and are excited to see the bohemian aesthetics get interpreted in Tao Paris' classic style.
Fashion Designer, Celebrity & Influencer Seema K Sajdeh on launching this new collection said, "I am excited about launching the 'Wanderlust' collection in collaboration with Tao Paris. This collection holds a special place in my heart not just because of its playful designs and bright aesthetics, which perfectly capture my style, but also because it offers best- in class quality, which aligns immensely with my creative philosophies and style. It was a great experience working with the hugely talented Tao Paris team to bring Wanderlust, a collection for all the fun-loving fashionistas out there."