RIDDHI DOSHI ATELIER: QUEEN OF REVERSIBILITY, REDEFINING LUXURY FASHION WITH INSTINCTIVE AND TRENDY DESIGNS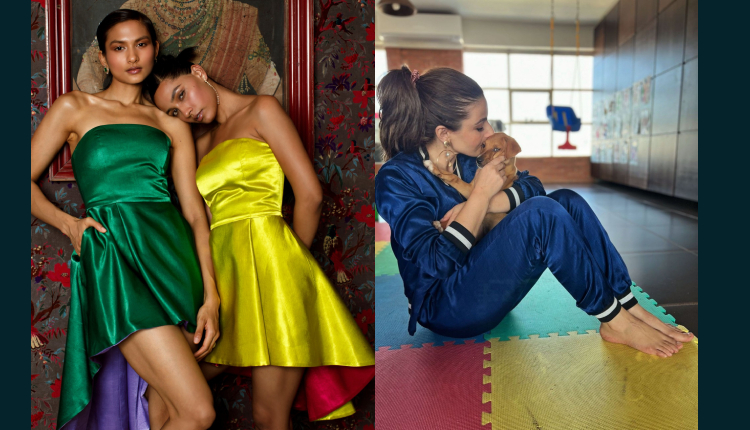 As Aristotle once said, "the aim of art is not to represent the outward appearance of things but their inward significance." Speaking of self-expression, the art of fashion has always seemed to top the charts! A homegrown Indian luxury brand, Riddhi Doshi's REDEFINE is here to spice up your mundane closet with its modern silhouettes in bold prints and colours, derived from different walks of life giving your wardrobe a voice of its own.
A reflection of one's personality can often be seen in their style and Redefine does exactly that for you – it's impactful, inclusive & quirky! Picking up the space from shambles, owner & designer Riddhi Doshi has re-created it into a true luxury retail experience. A fusion of Indian heritage with her personal style and a strong emotional connection with nature, abstract art and her children's doodle art gives her brand a new dimension, which truly resonates with the aesthetic of minimal, unhurried and yet forward thinking.
Spread across 1600 sq. ft, taking inspiration from the brand ideology the retail space perfectly embodies the Indian aesthetic with a modern touch. A walk through the store offers a veritable glimpse into the world of modern luxury with key fun and quirky elements inspired by unique individualistic design sensibility. The black, white & gold colour scheme of the place perfectly complements the beautifully designed pieces. Housing a workshop space and live stitching zone set-up for the clients to experience the behind-the-scenes of their beloved designs, offering complete transparency and a true form of customisation experience.
But where did this groundbreaking vision arise from? Well, the answer lies in those unpredictable times of the coronavirus pandemic, when the world came to a standstill. The time spent away from the world made everyone redefine their old ways-including how one perceives fashion and their style statement. Spending quality time together with her daughter, doodling sketching and painting away, Riddhi Doshi found the inspiration that would turn around the entire fashion scenario. Expressing herself through art and borrowing inspirations from the places she's been to, she took a bold step and translated her dream and vision through vibrant colours, prints and rich quality silhouettes that can be worn daily! Being a strong advocate of mental health and wildlife conservation, Redefine aims to give voice to important issues and stir up much-needed conversations. What you wear can often be co-related to how you feel and clothes do have the power of instilling you with a sense of calm, peace, and take-on-the-world confidence. Being born in unpredictable times, Redefine has quickly come to be known for its excellent craftsmanship and the way they make their beautiful and versatile reversible bomber jackets, blazers and suits embody the same spirit – being resilient and adaptive, and always making heads turn. When you invest in a reversible set, you get two outfits instead of one and Refine has managed to have mastered the skilled technique of reversibility. Each piece of Redefine's collection has a unique story to tell, the vibrant colours and prints not only make you stand apart in a crowd and make a statement but also becomes an expression of your mood, because – you are what you wear!
Standing apart from the bustling crowds of competitors, Riddhi Doshi believes in doing things to their heart's desire, not caring much for ongoing trends but simply believe if you feel good in it, you will love wearing it. Her creations are a blend of quintessentially vintage style and modern-day glamour, from a glamourous tube dress for a night event to a perfect pair of joggers with a jacket for travelling, the label offers varied style options to the clients- a true master of the craft and the heart! Taking her love for travel, embarking upon eclectic energy and basing Redefine's first collection on the combination of various overseas trips before lockdown to Milan Rome and Venice, safaris in Tadoba, Kanha and Kaziranga, deep-sea diving in the Maldives and of course her little artist's sketches and drawings. Not just this, along with building a solid niche in the market by offering the largest variety of prints in different categories and providing customisation services, the brand also humbly boasts of a zero waste policy and building a sustainable brand. All the waste fabric is used to create limited edition patchwork silhouettes, scarves and printed belts.
"My constant inspiration is my family, without who's nudge and support I wouldn't be so equipped to surrender to this world of creation and colour. Led by passion and imagination, my interest in fashion and art, Brand Redefine is an amalgamation of colour and emotion, and an extension of my sense of style and my dedication to creating something unique for the women and men of today." says Riddhi Doshi, founder & designer.
Refine is ready not just to take over Mumbai and then India but has also left an indomitable footprint in London & Dubai. And as the name suggests, the brand constantly aims to reimagine, reinvent and of course redefine!
Website: https://redefinebyrd.com/pages/story