This Valentine's, Mia by Tanishq's 'Rare Pair' collection celebrates coming together of opposites that complement each other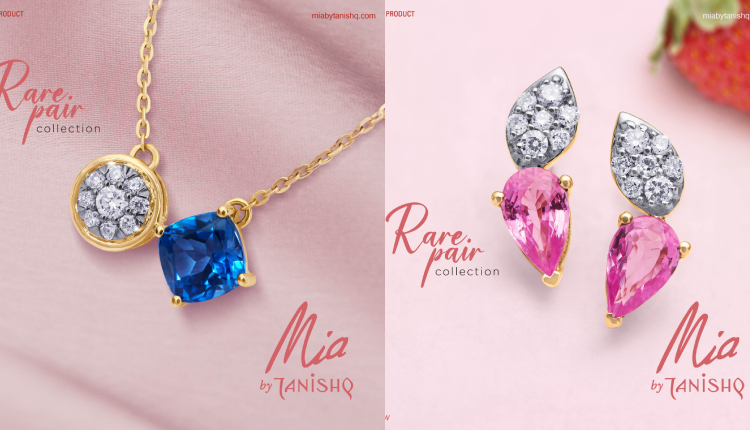 The season of love, laughter, and everything magical is here to set the hearts aflutter! This Valentine's Day, Mia by Tanishq, one of India's most fashionable jewellery brands has unveiled the remarkable 'Rare Pair' collection to reminiscence serendipitous romance. For the whimsical souls who express love through curating special memories for their partners, the collection has elegant jewellery inspired by Toi et Moi (You and I), honouring the individuality of two parts that come together to make a whole.
This luscious collection features designs of two precious stones coming together symbolizing the harmony of lovers that fit like a puzzle without getting lost in one another. The marvellous pairing of sparkling diamonds with Pink Sapphires, London Blue Topaz, and Garnets is the perfect representation of a love that shines brighter together. This collection also celebrates individuals with Mia's 'This is Me', which believes in rejoicing every facet of self-expression while staying true to one's identity.
Mia's 'Rare Pair' collection offers treasured jewellery pieces which are sure to evoke the feeling of renaissance romance and add instant exuberance to different outfits. With elegant and luxurious designs in rings, earrings, pendants, bangles, and nose pins, the collection offers a variety of intricate and stunning choices across diamonds and gemstones. Gift her a piece of jewellery that reflects your heart and captures what your love story means to you.
Speaking on the launch of the new collection, Ms. Shyamala Ramanan, Business Head, Mia by Tanishq, said "Our Rare Pair Collection is designed to be the token of your unique love story. Our products celebrate the two individuals, who have their own distinct identities, coming together to form a rare bond that compliments their personalities. Like the outgoing extrovert who finds peace with their quiet introvert partner or the early bird who ensures their night owl companion wakes up to a warm breakfast, our products signify how duality in a relationship harbours balance. Whether it's the red garnet giving the diamond a warmer shine or the blue topaz adding cool hues to the diamond, Mia stands for everything this generation seeks in a relationship – uniqueness in togetherness."
Wear your heart on the sleeve this Valentine's, it's time to shower your beloved with jewellery from Mia by Tanishq's 'Rare Pair' collection and celebrate the differences that made you fall for each other. The collection starts at the price range of Rs. 3000 and is available across all Mia by Tanishq stores and on its e-commerce platform https://www.miabytanishq.com/