5 fantastic reasons why we can't wait for Prime Video's The Boys Season 3 trailer to drop and blow our brains out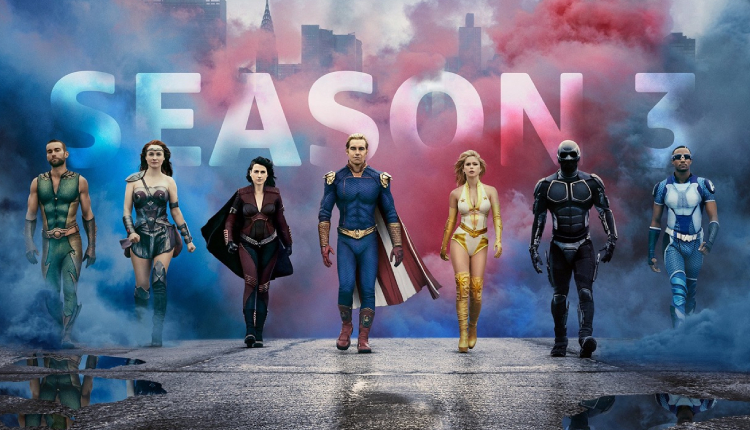 Hughie, Butcher, Starlight, Homelander, are back with a bang in the world of corrupt, out-of-control supers as Season 3 of The Boys hits Amazon Prime Video on June 3. With more madness and mayhem in store, it goes without saying that the hype for season 3 of this show is very much through the roof. With new supes, new mysteries, heroes, villains, and a lot more to look forward to, fans are counting the days for the trailer to drop. After all, they all want a taste of the blood and badassery before things get diabolical. Unable to wait even a single day now, here's five reasons why The Boys need to drop the Season 3 trailer ASAP.
New Super-Villains are rolling in
Well let's be honest, there are no good guys in The Boys. We absolutely love the bad guys. In fact, we love to hate them and we need more of their kind. This season we have Nick Wechsler as Blue Hawk, Katia Winter as Russian mob boss Little Nina, Sean Patrick Flanery as Gunpowder, and Miles Gaston Villanueva as Supersonic, to name a few. We are dying to see how bad they can get, and the absolute hell that The Boys will unleash on them.
The cast is taking exploding heads way too seriously
The bad and the super bad in the show are all played by actors who absolutely kill it with their on-screen presence (no pun intended). Be it our very own megalomaniac Homelander (Antony Starr) or The Boys leader Billy Butcher (Karl Urban), Starlight (Erin Moriarty), Hughie (Jack Quaid) Mother's Milk (Laz Alonso) and many others who are the heart, soul and the disgusting spewed out guts and intestines of the show! Lucky for us, we get to see them again and they are coming guns (and lasers) blazing.
Butcher on his way to becoming a human super?!
This is hands down the highlight of the newest season. Billy Butcher is getting his own superpowers! We saw the fire of vengeance in his eyes in the previous two seasons, sure, but the new season takes the cake. Golden beams that can match Homelander's red ones are going to wreak havoc on the world. Billy as a human was bad, we literally shudder to imagine him as a Supe, but we are all in for it.
We stan more of Starlight and Hughie
We saw Hughie devastated when the love of Hughie's life was ripped from his hands (pun intended here) by a Supe. Since then, we've wanted him to have his own happy ending. When the sweet-faced Annie January and Hughie have a meet-cute, we loved it. As adorable as they are, their story has taken turbulence over the span of two seasons. With an upcoming season, we want more of them and we want it now!
The season 3 teaser trailer teased us alright
If you haven't already seen season three's teaser trailer, SEE IT NOW! With Imagine Dragon's Bones playing in the background, we get a very sneaky peek into the newest season. Butcher's superpowers, the bad boys and girls with their guns blazing, people and heads exploding, Homelander's fake smiles, brand new badass villains, and The Boys' madness, it's all in here. And here are we, waiting for more with bated breath.
If you haven't seen the first two seasons (and have a brave heart) you need to binge-watch them now to have a spoiler-free season three experience. The trailer will be out very soon, and season three is releasing on June 3, 2022 exclusively on Amazon Prime Video in 240 countries and territories worldwide. These bad guys are coming, you better be prepared.