Catch Viraj Ghelani and Funcho stuck in a laughter loop in the latest episode of Amazon miniTV's By Invite Only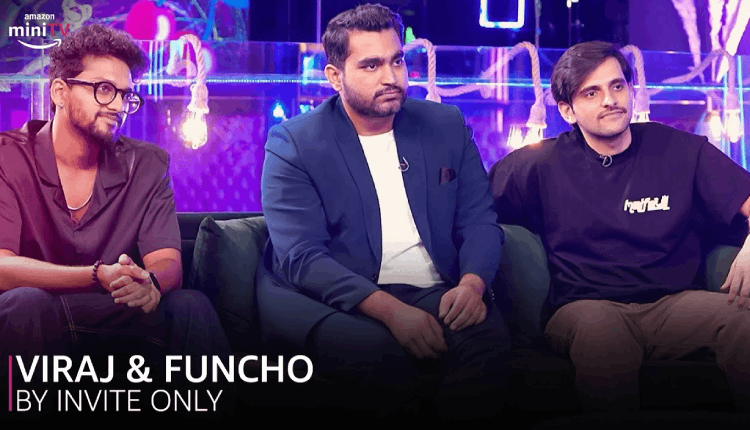 Amazon miniTV – Amazon's free video streaming service, today unveiled the promo of the latest episode of their chat show By Invite Only. The upcoming episode will feature popular artists and content creators Viraj Ghelani and Funcho. As anybody would expect, this episode is set to witness a whole new level of fun, gags, and candid conversations, making audiences laugh out loud for real!
The recently released promo featuring Viraj and Funcho is proof that viewers are in for a hilarious treat with the frequent chortling amongst the three of them with our host Renil steering the episode towards some great memories.
To share a glimpse of how engaging this episode was, Renil asked Shyam (one of the creators from the Funcho duo), "What is that thing which you think you have and Viraj and Dhruv don't?" To which Shyam replied by saying, "Single-relationship and maybe I look smarter than both of them."
Sharing his experience of being a part of the show Viraj said, "I really like the concept of chat shows, it reveals your personality and viewers get to know your true self in a creative and fun way. Being here at By Invite Only with my friends Funcho is an experience in itself. I am sure they will bring their touch of comedy and quirkiness to the show, looking forward to having a chit-chat with Renil."
"We always look forward to meet Viraj, he has a joyous and easy-going personality. Being invited with him at By Invite Only is definitely going to be a fun experience. We are up to having a blast and fall into an upstanding convo alongside Viraj. We really hope that we bring in doze of laughter and entertainment and the audience will enjoy the episode", said the fun-duo Funcho.
By Invite Only, hosted by Renil Abraham, is the talk show produced by The Zoom Studios and the latest episode will premiere on 4 April 2023, on Amazon miniTV for free, available within the Amazon shopping app and Fire TV.