Gold Coast Films Launches New Travel Campaign for Maldives with Shruti Sinha, Ashi Khanna, Mehak Ghaii and Aashna Malani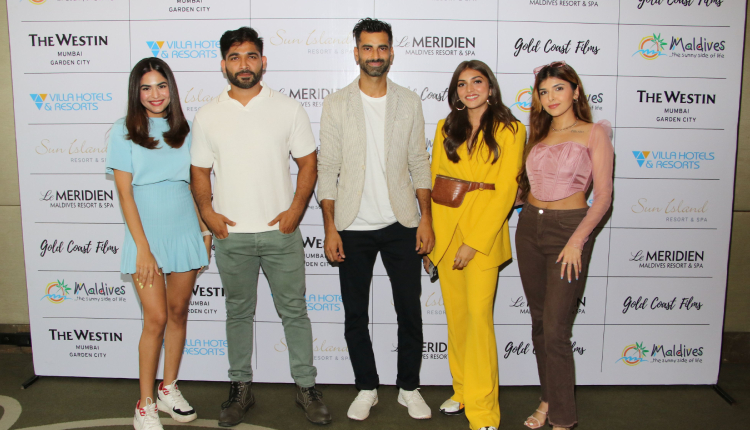 Gold Coast Films announced the launch of its new travel IP on 6th April 2022 at The Westin Mumbai Garden City. Present at the event were Shruti Sinha, Mehak Ghaii, Ashi Khanna along with Gold Coast Films founders – Sunny Arora and Neeraj Mishra. The team was ecstatic about their travel to Maldives when their itinerary unfolded at the event. The trio was spotted discussing their clothes, beach essentials, photo poses and reel ideas.
The 5-day trip begins on 7th April where the influencers will witness the gorgeous island and create exclusive content. They would be staying at two gorgeous resorts -The Sun Island Resort and Le Meridian Resort and will be experiencing Maldives. We could see them enjoying activities like wanderlust & whale-shark trip, adventuring at water sports, Dolphin Cruise and semi submarine; and then finally rejuvenating with a spa and a game of Beach Volleyball.
The trip is planned in collaboration with the Maldives Marketing & PR Corporation (MMPRC). Talking about the association, Thoyyib Mohamed, CEO and Managing Director, Maldives Marketing & Public Relations Corporation said, "India will always remain as a market of great importance to the Maldivian tourism sector. We believe that Maldives holds such an important place in the hearts of Indian travelers, especially celebrities, due to our exemplary service, world-renowned hospitality and our unique experiences. We are excited to welcome the Gold Coast Films Team to Maldives and experience what we have to offer".
This trip is different from GCF's earlier trips because for the first time they will be creating content on the go and we will be able to get a first-hand update through their insta feeds constantly.
Sunny Arora, Founder, Gold Coast Films elaborated on the new campaign stating that "I have been working with tourism boards w.r.t Indian Outbound Market for over a decade now and have executed various campaigns and IPs over the last few years successfully. At Gold Coast Films we are fully focused on creating out of box campaigns and content for Travel Products & we look forward to curating some disruptive content on our upcoming Maldives Trip too. This will be our second collaboration with Maldives Tourism Board and we look forward to a successful one".
The team missed Aashna Malani at the event. She couldn't make it due to her prior travel commitments but would be joining them at Maldives Airport.
The Venue partner – The Westin Mumbai Garden City was a gracious host. GCF's first choice for venue undoubtedly remains constant with The Westin for providing clutter-free meeting experience with personal and instinctive services persistently.