Hungama Artist Aloud and Phoenix Marketcity, Mumbai have come together to present 'Awestrung Reloaded' Valentine Edition to celebrate Music & Love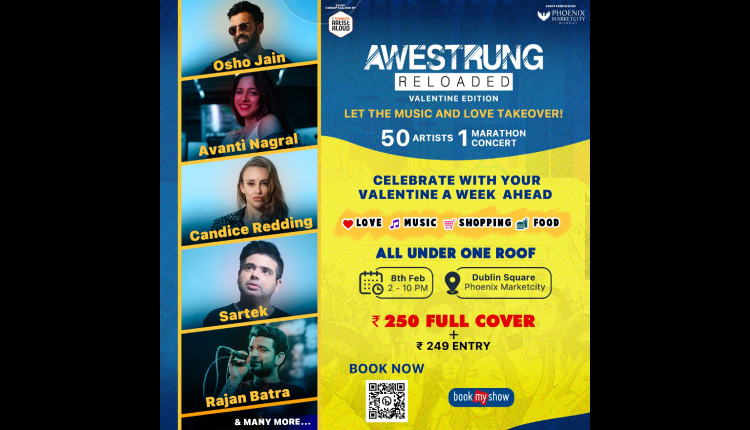 Hungama Artist Aloud, a platform that supports and promotes independent content, has come together with Phoenix Marketcity, Mumbai to bring Awestrung Reloaded Valentine Edition. A marathon concert featuring performances by 50 independent artists such as Osho Jain, Avanti Nagral, Candice Redding, Sartek and Rajan Batra among others. Conceptualised by Hungama Artist Aloud, the concert primarily aims to bridge the gap between artists and their fans by bringing them together and making it an unique experience where music and love takeover. The concert will be held on Wednesday, 08th February 2023 from 2 pm to 10 pm at Dublin Square in Phoenix Marketcity, Kurla, Mumbai.
Soumini Sridhara Paul, Senior Vice President, Hungama Artist Aloud, said, "At Hungama Artist Aloud, our vision and goal has been to provide a platform for independent artists to showcase their talent. It is our endeavour to build a catalogue of independent artists and their music to reach a wider audience and enable them to discover a treasure trove of content. Awestrung Reloaded, commemorating the season of love, with its valentine edition will spark a new found love for indie music. We are looking forward to the audience enjoying an exuberant time and are certain that everyone will have an all-encompassing concert experience."
Mayank Lalpuria, VP, Marketing-Phoenix Malls (West & North) said "We have always aimed at creating one-of-a-kind experiences for our customers. It is our pleasure to collaborate with Hungama Artist Aloud yet again and host Awestrung Reloaded Valentine Edition at our indoor entertainment venue, Dublin Square that has been home to several legendary artists and icons for their stellar performances. Our focus lies in providing a holistic customer experience with all things shopping, entertainment, and dining to our customers. We are excited for this event to be full of captivating performances and love for music."
Popular artist, Osho Jain, said, "I am super excited to be a part of Awestrung Reloaded and perform for the audiences. Through this concert, a community is coming together to celebrate art, music and its expression. The independent music landscape has gradually been growing and I truly applaud the endeavour by Hungama Artist Aloud to provide an ambit of opportunities for them to flourish."
Artist and creator Avanti Nagral said, "Stages like this that provide opportunity and platforms to diverse, new independent talent from across the country are so important – I'm grateful to be a part of this lineup, and can't wait for y'all to experience this marathon of a festival".
The Delhi based DJ Sartek quips "Mumbai has always been my second home. Can't wait to perform."
The crackling musical entertainer Candice Redding said, "This is going to be too much fun playing in Mumbai after so long. Really looking forward."
Songwriter, vocalist and composer Rajan Batra said, "Performing my solo songs to a live audience for the first time ever. Really excited."
A total of 50 artistes/ bands will perform original songs at Awestrung Reloaded. Bringing forth the best names in the Indian music scene closer to every music lover the names include, 7Bantai'z (Beatslayer, Bonz N Ribz, Crackpot, Sid J, Mr.Scam, MC Notez, Yoku B.I.G), Aarya, Anwesshaa, Lost Fireflies, Young Galib among many more. The tickets for the concert will be available on the BookMyShow website: https://in.bookmyshow.com/events/awestrung-reloaded-valentine-edition/ET00350203