I am nervous and keeping my fingers crossed: says Priyank Sharma on the launch of season 2 of ALTBalaji's youth drama Puncch Beat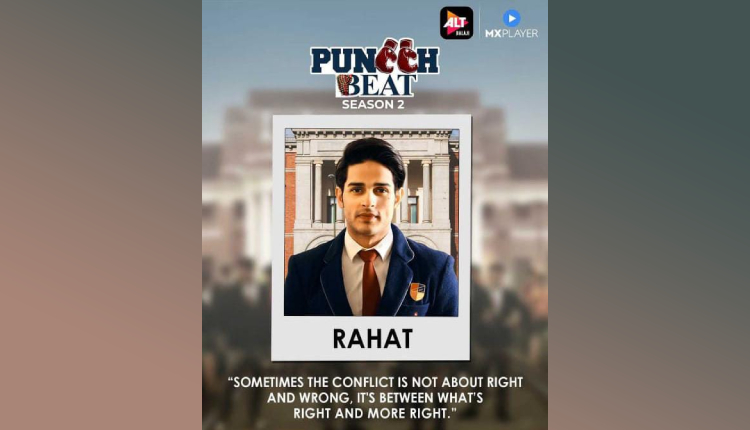 Priyank Sharma is set to reprise Rahat's character in the second season of ALTBalaji's youth drama Puncch Beat season 2. It is a continuation of Rosewood High's first season. Priyank Sharma, who made his debut with the first season, is quite nervous about the second season. Throwing some light on his character graph this season, he also revealed that there is going to be a lot of changes in Rahat's character.
Talking about Puncch Beat Season 2, he said, "We are coming back after, I believe some 2-3 years, and I hope that the wait and all the efforts we've put in the show is going to be worth it for the audience. This time the story is going to be much more complex. So people will enjoy and get to see Rahat in a different shade, it not the same Rahat as he was in Season 1."
Talking further about playing the part, Priyank also confessed that he is nervous about the season. "In the last 2-3 years, there has been an evolvement in me as an actor. So yes, I am quite excited and quite nervous again. It's not the same, Rahat. So I treated it as a different character. I am nervous and keeping my fingers crossed. I hope that people will appreciate the kind of hard work we are putting in the show especially.
Puncch Beat 2 is the sequel to the hit youth boxing drama Puncch Beat, released in 2019. The ALTBalaji show centres around college, teen drama and also a murder mystery this year. The second season stars Priyank Sharma, Siddharth Sharma, Khushi Joshi, Harshita Gaur, Samyuktha Hegde, Kajol Tyagi, Nikhil Bhambri, Samir Soni, Niki Aneja Walia, and others.
The show is already streaming on ALTBalaji. So watch all the 13 episodes of the second season on the streaming giant right away.