"I locked Myself Up for Three Days in the Room to Write the Draft for Gangubai" … says Writer Utkarshini Vashishtha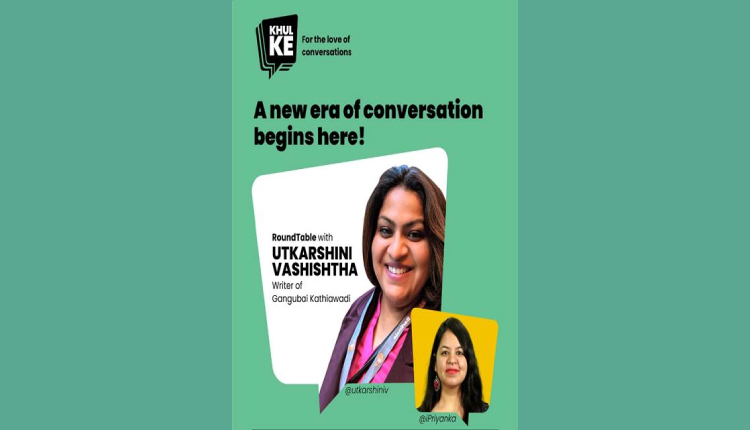 Writer Utkarshini Vashishtha is best known for her exemplary work in Sarabjit, Ram Leela and the most recent Gangubai. Utkarshini, who is currently enjoying the accolades for Gangubai, joined the RoundTable with moderator Priyanka Sharma on the recently launched platform Khul Ke to speak about her journey, long pending success of Gangubai and upcoming projects. Khul Ke, is touted at elevating conversations and is the only platform to allow video, audio and text-based conversations amongst moderator & panelists as well as audience. The platform lays its foundation in the 'power of conversations' and urges artists, influencers, entrepreneurs, brands, consumers, your friends, or like-minded individuals to engage in meaningful conversations.
Film Gangubai has been talk of the town ever since the first look was revealed. But not many know the journey of the film began almost 12 years ago for Utkarshini. She had first met director and maestro Sanjay Leela Bhansali on the sets of a television show where he was a judge and she part of the creative team. SLB had taken an immediate liking towards her and would make her rewrite all his lines. Having an avid interest in writing, Utkarshini connected with Sanjay Leela Bhansali soon after and expressed her desire to pursue this passion. Talking about the same Utkarshini revealed, " I met Sanjay Sir and told him about my interest in writing for films. He handed me a book and told me to read 30 pages in the other room. I spent two hours and ended up reading the book ' Gangubai" from cover to cover. He wanted to test my writing skills and asked me to write 10 scenes. When I went back to meet him with what I had written, he was pleasantly surprised and exclaimed 'you can write!' 'It was during the time Ram Leela was being shot. However, Gangubai for me came into being in three days, when I locked myself up completely and wrote the first draft of the film. It was in the next 28 days that the screenplay was written, the fastest ever for an SLB film. I am so glad that the film was finally made".
Utkarshini Vashishtha was a marketing professional before becoming a screenplay writer. According to Utkarshini, real life is more interesting than fiction and Sanjay Leela Bhansali is a democratic director and for him Gangubai was born out of his passion.
Speaking about the challenges she faced while writing film she shared , "As a writer the most difficult scene for me in the film was the very first of the shot where Gangubai says 'mujhe jaane do uncle' at the funeral of Kamli. I wept to imagine a young girl being dragged by an 'uncle' into a brothel." Utkarshini further adds, "Nobody better than Alia could have portrayed this character with so much conviction. We used to call her Amitabh Bachchan on our set because of the command she had on herself and the character"
Paving her way in the world of writing, Utkarshini Vashishtha has come a long way and her next project being with Disney+ Hotstar which releases in 2023.