Josh launches 'Club Josh' @ SOCIAL, bringing together India's top bands and content creators under one roof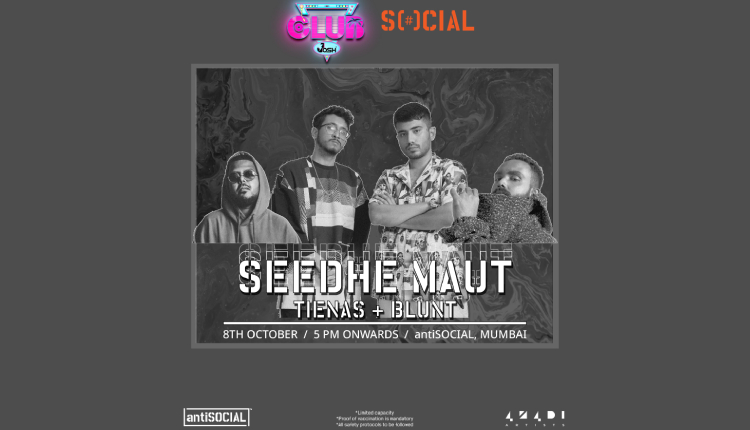 Josh, India's fastest-growing and most engaged short-video app, has announced the launch of its third IP 'Club Josh' @ SOCIAL. In collaboration with SOCIAL, Josh and path-breaking urban hangout and collaborative workspace – SOCIAL, a part of India's leading food & experiences company Impresario Handmade Restaurants would host exclusive musical evenings at various cities across the country, wherein top creators from Josh and leading Indian musicians come together for a never-seen-before collaboration in music. The first edition of Club Josh at SOCIAL kickstarts at antiSOCIAL, Mumbai on 8th October. Headlining the main act would be hip-hop rapper duo Seedhe Maut, other leading artists performing would be Tienas and BLUnt.
Club Josh will feature artists from across the country showcasing the best of the Indian music landscape at SOCIAL outposts across India in cities like Mumbai, Delhi, Pune, Bangalore, Chennai, Chandigarh and Indore. Artists across languages and genres such as Indie, Pop, Hip Hop, Bollywood & Electronic will be seen performing month on month, celebrating the diversity across genres. Some of the artists that are part of the lineup include Ankur Tewari, Raghu Dixit, When Chai Met Toast, Shalmali Kholgade, Prabh Deep, Benny Dayal, Papon, to name a few.
With the exclusivity provided by Josh, content creators will get a chance to meet, greet and learn from India's best performers, while getting a platform to showcase their talent and creativity to a bunch of enthusiastic youngsters. Aimed at bringing together India's leading musicians and entertainers under the same roof, Club Josh @ SOCIAL would create synergies between creators and bands to rock the local party scene.
Speaking on the collaboration, Seher Bedi, Head of Josh Studios said, "We are very excited to launch our newest IP 'Club Josh' @ SOCIAL in a first and exclusive collaboration with a hospitality brand, where we look at bringing together the best brands and creators to jazz up weekend scenes. Music-based content is diverse in possibilities, from singing and dancing to catchy fashion trends and travel videos –music forms the backdrop and enhances the entire experience of content consumption. In this sense, we are thrilled to be working with SOCIAL to bring together the best creators and musicians from across the country, for evenings of good music, content creation, and exciting collaborations."
Speaking about the collaboration, Alexander Valladares, Chief Marketing Officer, Impresario Handmade Restaurants says, "SOCIAL always puts a premium on bringing communities together. And as allies of the Indian indie music industry, it was natural for us to join hands with Josh to showcase homegrown talent across our outposts. The idea behind Club Josh @ SOCIAL is to engage the full spectrum of the music ecosystem by giving a platform to popular and grass-roots talent. It has been interesting for our team to work together and curate a line-up that is not just refreshing but also forward-thinking. This collaboration brings together the three cohorts of our community – artists, content creators and our patrons – providing all of them a great opportunity to engage, collaborate and enjoy."
Club Josh at SOCIAL kicks off in Mumbai this Friday, will travel to several other SOCIAL outposts across India over the next few months, giving creators and musicians a platform to create and curate incredible Live music experiences for the audience.