KURKURE COLLABORATES WITH KARAN JOHAR FOR A CHATPATA TWIST ON THEIR 'VIDESI MEIN DESI CHATPATAPAN' CAMPAIGN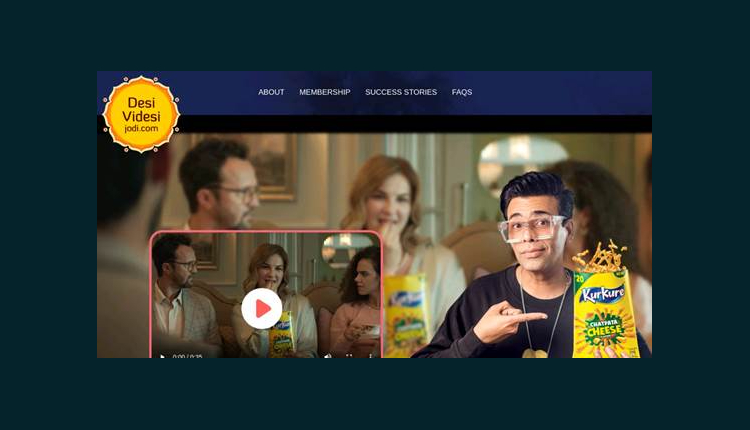 Keeping everyone entertained with its latest campaign, Kurkure, one of India's most loved snack brands, has collaborated with Bollywood filmmaker and celebrity, Karan Johar, for a quirky activation like no other. The masaaledar brand-director duo launched a mock-up of a unique matchmaking platform created specifically for desi and videsi matches, known as desividesijodi.com.
This collaboration is a playful extension of Kurkure's 'Videsi Mein Desi Chatpatapan' campaign for its latest fusion flavour, Kurkure Chatpata Cheese, which is the perfect jugalbandi of international cheese and Indian chatpatapan. In line with the product's TVC that showcases an interesting discussion between an Indian family and a foreign one on their children's love marriage, the matchmaking platform was aimed at highlighting the unison of Kurkure's fusion flavours through one of India's most celebrated events, marriage.
Prior to the reveal, Karan Johar's announcement of the matchmaking platform piqued the curiosity of his audience as the Instagram reel received mixed reactions from the public. Karan's dear friend and famed Bollywood director, Farah Khan was quick to comment too on his post, saying "Why can't u matchmake you n me?? Now thats a match made in heaven 😂."
Many users encouraged the 'east meets west' angle with comments like "A desi-videsi match-making website? I guess my time has finally come" and "Ab isko boltey hai good newwz! Is there a trial version of this?" while there were many others wary of what Karan has in store. They showed their doubts by commenting, "Don't say that the matchmaking app is for celebrity kids only!"
But upon disclosing his collaboration with Kurkure, fans were impressed by the duos ability to keep a secret and prank their followers. Some were disheartened as they genuinely believed that they had found the perfect platform to meet their ideal match. Comments such as "What an unexpected chatpata twist @kurkuresnacks 😉," "Haha what a masaledaar jodi! Could never imagine you pulling a stunt like that @karanjohar!" and even "Dhokaaaa! I was really hoping this was true ☹."
Speaking on the collaboration, Karan Johar, Bollywood filmmaker and producer said, "Everybody is a fan of Kurkure and its entertaining campaigns! So, when the brand approached me to collaborate with them, I couldn't imagine it would be for an unconventional concept like this! I loved their modern take on the unison of desi-videsi flavours. A chatpata brand like Kurkure discovering such a quirky way to engage with their fans and bringing their new offering into the limelight is exciting!"
Sharing her thoughts on the campaign, Neha Prasad, Associate Director, and Brand Lead, Kurkure said, "Kurkure is known for its quirky personality. We believe in creating content that is engaging and clutter breaking. Our recent collaboration with Karan Johar is no different. As one of the most loved brands in the country, we're known for our masaledaar entertainment, just like many of Karan's projects. Thus, we thought that this was the right leap for us to not only create conversations around our new product, but also strengthen the banter and engagement with our new-age consumers."