Prime Video Announces Streaming Premiere of Suraj Venjaramoodu- starrer comedy drama – Ennalum Nteliyaa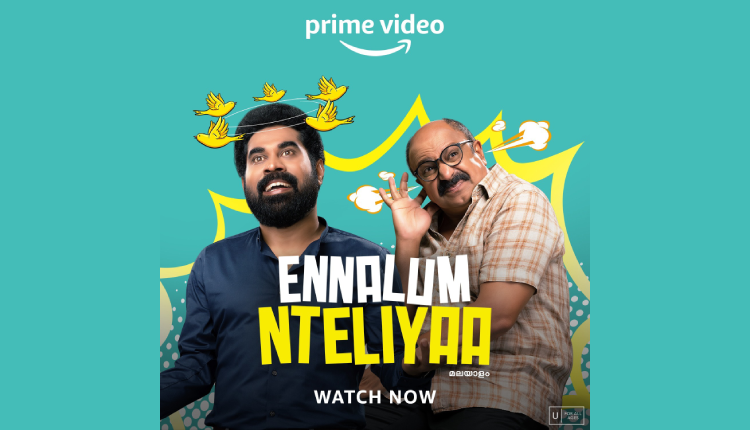 Prime Video today announced the global streaming premiere of Ennalum Nteliyaa, directed by Bash Mohammed and starring Suraj Venjaramoodu as the protagonist- Balakrishnan. The comedy-drama boasts of a popular ensemble cast including Gayathri Arun who plays Lakshmi, Siddique playing the role of Karim, Lena as Sulu, and Meera Nandan. Prime members in India, and across 240 countries, and territories worldwide can watch the light-hearted family comedy in Malayalam starting today.
Revolving around Balakrishnan aka Balu an insurance agent in Dubai and his wife Lakshmi who are going about their life as usual, when the arrival of Balu's brother-in-law lands the family in an inadvertent confrontation with his building complex neighbour. Due to an innocuous conversation and a series of misunderstandings, the families are embroiled in a humorous one-upmanship, trying to outdo each other, until the real culprits of the love affair are finally unveiled.
Speaking about the film, director Bash Mohammed, said, "A light-hearted comedy, Ennalum Nteliyaa is inspired by real-life situations that can happen with any family, making it extremely relatable. A stellar cast, with their exceptional acting prowess, makes the characters and the film even more enjoyable. Bringing this story to a much larger and more diverse audience, I am delighted that Ennalum Nteliyaa will stream on Prime Video."
Actor Suraj Venjaramoodu, shared, "Ennalum Nteliyaa is a comical take on how certain conversations, and happenings within families, and with neighbours can spin out of control. Director Bash Mohammed has a natural flair for humour, and this film beautifully exhibits that. With amazing performances from a talented cast that includes Siddique sir, Gayathri, Lena, and Meera, I am sure viewers will enjoy this film to the fullest."
Link: https://www.instagram.com/reel/CoL8zqCgCao/?igshid=NDk5N2NlZjQ=