Satiate your need to binge with discovery+'s exciting July line up including popular titles like Shark Week, Devlok with Devdutt Pattanaik S1, Kolkata with Sue Perkins amongst others!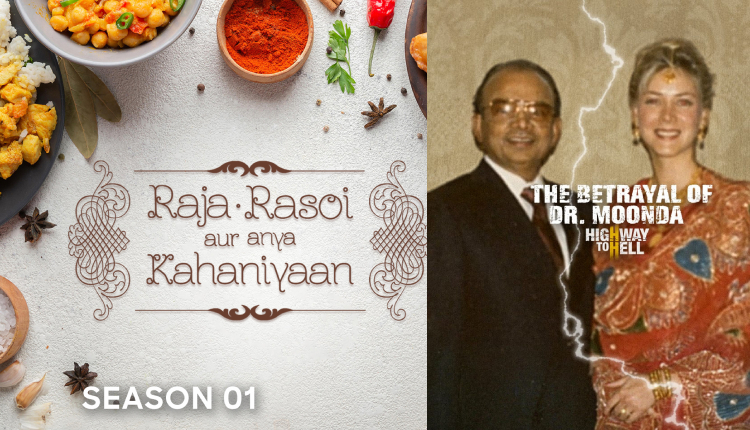 With the rains finally making an appearance, it makes all the more sense to not venture out in the heavy downpour, and instead, to remain cosy and dry inside the safety of our homes. To make your month entertaining, discovery+ continues to bring an exciting line-up of gripping shows and documentaries that will leave you curious to know more about the subject!
The discovery+ July 2022 line-up includes the return of Shark Week with a host of celebrity specials including Impractical Jokers, Tracy Morgan, the Jackass crew amongst others as we celebrate Shark Awareness Day on July 14th. Other notable premiers include 'Raja Rasoi Aur Anya Kahaniyaan S1', 'Highway To Hell: The Betrayal of Dr. Moonda', and '90 Day Fiancé: UK', amongst others.
Highlights:
Devlok With Devdutt Pattanaik S1 – Kickstart your weekend with this superhit mythology series hosted by Rasika Dugal. The renowned mythologist Devdutt Pattanaik takes viewers on a voyage of Hindu mythology. Exploring and interpreting the questions that arise from Hindu folklore, the series is sure to engross viewers through the myriad stories, symbols and rituals that form the basis of Hindu culture
Streaming from July 02
Kolkata with Sue Perkins – Sue Perkins immerses herself in the complex life of Kolkata. She sees first-hand how it has evolved from a place notorious for its fabled 'Black Hole' dungeon and the dreadful poverty of its street people to a place reinventing itself as a vibrant new megacity, with a booming property sector and a reputation for culture and tolerance
Streaming from July 06
Highway To Hell: The Betrayal of Dr. Moonda – Across the US, 160,000 miles of highway span coast to coast, north to south. Millions of journeys occur simultaneously, yet for some, a simple road trip can lead along a highway to hell where secrets, stalking, and murder become the road's currency
Streaming from July 13
Indian Martial Arts: Ek Itihaas – The martial art developed into its present form by the 6th century, during an extended period of warfare between the Chera and Chola dynasties. The series gives you a closer look at the Indian Martial Arts landscape and its history
Streaming from July 13
Raja Rasoi Aur Anya Kahaniyaan S1 – Variety is the spice of life, and Indian cuisine has an abundant of both. Raja Rasoi Aur Anya Kahaniyaan takes you through the history of Indian food and how some of the most flavourful food in the country came into being. Get on to this culinary journey to experience the extravagance and innovation
Streaming from July 22
90 Day Fiancé: UK – This summer, for the first time outside of the US, the global phenomenon 90 Day Fiance is landing in the UK. 90 Day Fiance: UK is set to be a rollercoaster of emotions, as the series follows eight loved-up Brits and their long-distance lovers for 90 days to see if it's the real deal, or if they've made a big mistake and should call the whole thing off!
Streaming from July 26
Shark Week – Get your heart pumping with the return of television's longest running, and most anticipated summer event, Shark Week! The annual TV event returns for a historic 34th year with bigger sharks, bigger breaches, and even bigger findings from the teams of dedicated scientists and researchers in the field
Streaming soon
~ Don't forget to tune in to discovery+ this July to enjoy our engrossing slate of titles like Devlok with Devdutt Pattnaik, 90 Day Fiancé UK and many more ~