Chennai SOCIAL to host the 7th episode of CULTURE CHUTNEY in collaboration with THE ART & FLEA PROJECT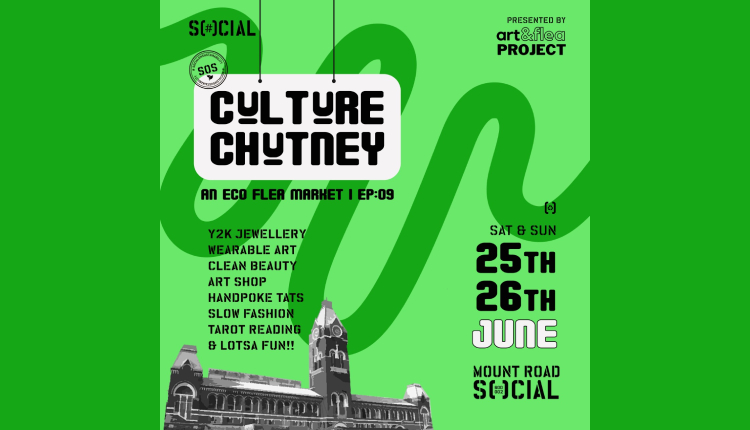 : SOCIAL, an all-day café and bar chain, is designed to keep you connected while offline. Our path-breaking and refreshing take on hanging out as made us a beating heart in all neighbourhoods. In order to support and spotlight the sustainable community in the city, we are hosting our Culture Chutney initiative under #GreenerSocial vertical called #SOS AKA #SOCIALOnSustainability.
SOCIAL's vision for #SOS is to lead conversations around sustainability and look for solutions in the industry as well as the hyperlocal communities of India. As part of the #SOS initiative, Chennai SOCIAL will be hosting the 7th episode of Culture Chutney in collaboration with The Art & Flea Project, a women-led creative incubator deeply engaged in working with artists and the creative community to build capacity in the areas of Arts and Environment.
The idea behind this 2-day eco festival property is to showcase homegrown talent who make conscious lifestyle choices to be sustainable and springboard others into doing the same. Be a part of our pan-India community through the immersive Eco Flea Market with an array of exciting displays of Graphic Tees (Culture Inc), Artisanal Candles (Rora Candles), and Skincare (Bubble Hut), to Clay Jewellery (Clayopatra), Healing Crystals (Purple Pyramid), Stationery (Limn Designs), and so much more! Outside of hand-poke tattoo sessions and tarot card readings you can also join our interactive workshops:
Get engaged and immersed in this 2-day Flea Festival, at your favourite neighbourhood hangout spot – Mount Road, SOCIAL.
Event details:
When: Saturday 25th June – Sunday 26th June, 2022
Time: 12PM -7PM
Where: Mount Road, SOCIAL
Whites Rd Gate 1, First Floor, Express Avenue Mall, Royapettah, Chennai, Tamil Nadu 600002
Entry: Free
Vendor list:
-Fashion & Lifestyle Brands:
-Culture Inc – Clothing (Graphic tees etc) https://instagram.com/culture.inc21
-Clayopatra – Polymer Clay Jewellery https://www.instagram.com/clayopatra.store
-A Pinch of Meraki – Art Prints https://www.instagram.com/tarotnovember/
-Rora candles – Artisanal Candles https://instagram.com/rora.candles
-Mayok – Metal Accessories https://instagram.com/shop.mayok
-Lemony Burps – Art Prints https://instagram.com/lemonyburps
-Purple Pyramid – Healing Crystals https://www.instagram.com/purplepyramid444/
-Limn Designs – Stationeries and Scrunchies https://instagram.com/limndesigns
-Bubble Hut – Skincare and Soaps https://instagram.com/_bubble_hut
-Araiya Studio – Resin Art https://instagram.com/araiya.studio
Activities:
-Kii ink – Handpoke tats https://instagram.com/kii.ink
-November Tarot – Tarot Reading https://www.instagram.com/tarotnovember/
RSVP Link – https://insider.in/culture-chutney-an-eco-flea-market-chennai-jun25-2022/event