Chennai's favourite restobar, Dank celebrates its Anniversary Festival from February 23rd till 27th 2022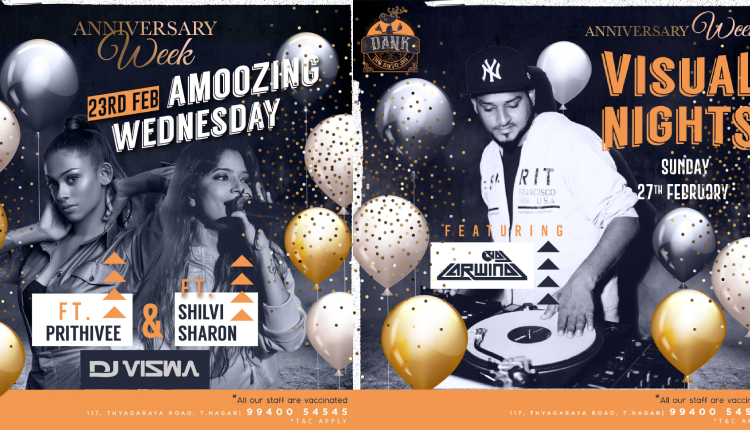 Chennai's most popular restobar, Dank invites you to an exhilarating five day Anniversary Event celebrating the "2nd Anniversary of Dank". The week long celebration is kicked off with an electrifying performance by singers Pritvee and Shilvi. On Thursday, Dank is hosting a sit down meal specially curated By Celebrity Chef Saby Gorai as Violinist Shravan Sridar playing the most popular melodies. On Friday you can enjoy the exclusive anniversary menu with exquisite dishes as DJ IVAN who's from Bangalore is playing. Get ready to be entertained by Prashanth Amir, the resident DJ as you unwind with chilled cocktails, scrumptious food and the Dank hospitality. Sunday, you can feast on the largest brunch spread as Singer Aishvarrya croons the most mellifluous tunes. Sunday dinners are visual nights with VDJ Arwind dishing out astounding visual treats as you enjoy the premium cocktails and decadent food.
Experience the best of music, food, drinks, culture and talent only at Dank's Anniversary. Save the dates and get ready for a Moosetastic time.
Dank ANNIVERSARY Schedule from February 23rd till 27th 2022:
● Wednesday, 23rd February, 2022 – SINGER PRITVEE AND SHILVI
● Thursday, 24th February, 2022 – FOOD EVENT WITH CHEF SABY GORAI AND VIOLINIST SHRAVAN SRIDAR
● Friday, 25th February, 2022 – DJ VK OPENING ACT FOLLOWED BY DJ IVAN
● Saturday, 26th February, 2022 – DJ SANTANA OPENING ACT FOLLOWED BY PRASHANTH AMIR
● Sunday, 27th February, 2022 – SINGER AISHVARRYA PERFORMING AT BRUNCH FOLLOWED BY DJ ARWIND AT DINNER SESSION
DANK ANNIVERSARY FESTIVAL – February 23rd till 27th
Date: 23rd February till 27th February 2022
Time : 12 PM (Noon) – 11 PM
Entry Fees : No Entry Fees
Address: 117, Sir Theagaraya Rd, Drivers Colony, T. Nagar, Chennai : 600017
Whatsapp: 9677122255 for more info