Evoluzione presents A Pop Up Sale for Men and Women from 22nd July – 24th July at Evoluzione, Chennai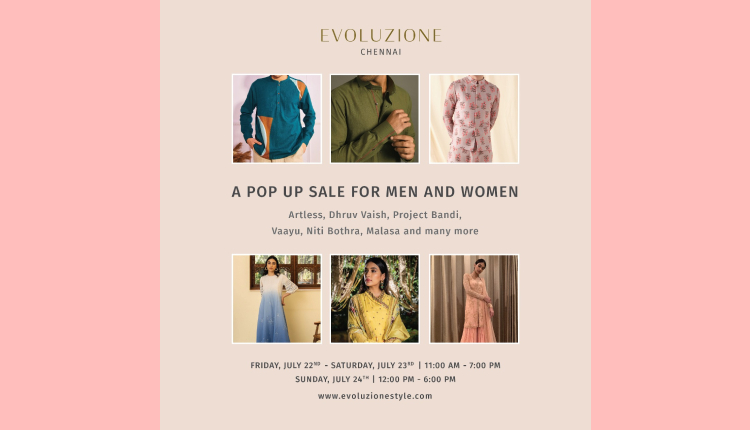 Evoluzione Chennai presents AN EXCLUSIVE POP-UP SALE FOR MEN AND WOMEN. The sale starts from 22nd July – 24th July with discounts up to 75% off on collections such as Artless, Dhruv Vaish, Malasa, Niti Bothra, Vaayu and much more.
Evoluzione is a multi-designer lifestyle and luxury boutique which raises the mark for Indian fashion with a curated selection of India's best established and upcoming designers. Evoluzione was established in 2000, with the idea of bringing Indian luxury fashion to the south. Evoluzione uncomplicates luxury and celebrates the craft behind the clothing. With over 20 years of experience, the brand constantly evolves its sartorial expression, catering to the new age of the modern luxury client.
Their pieces are designed for you to treasure. Every fold, stitch and print has been meticulously tailored to perfection. At Evoluzione, they deem it their duty to inform their wearers of the crafts and minds that have gone behind creating their garments. Their expert staff and curators work relentlessly to help you find a fashion personality that best suits you and is perfect for the occasion you want to wear it for.
A visit to Evoluzione might even mean discovering a completely new style.
Pop Up Sale for Men and Women
Contact Details:
Address: 3, Khader Nawaz Khan Rd, Srirampuram, Thousand Lights West, Thousand Lights, Chennai, Tamil Nadu 600006
Phone Number: 044 28333627
Timing: Monday – Saturday: 10:30 AM – 7:30PM, Sunday – 12PM – 6PM