Who runs the world? Girls! Especially when the girls in question are Sara Ali Khan, Swara Bhasker, Athiya Shetty and RashmikaMadanna.
This Women's Day, as we #BreakTheBias, we wanted to go down memory lane – when content creator, Kusha Kapila, took the wheel as part of the Swipe Ride series and gave a quick ride to beautiful Tinder members accompanied by our lovely divas delving into the nuances of dating in today's rapidly evolving world. Be it the national crush Rashmika Madanna with her wise words, Sara Ali Khan with her 'Khanfidence', Athiya Shetty preaching perceptions and Swara Bhasker's candidness in conversations; these divas have given their two dimes on dating, relationships, and everything in between. What got us excited were the fun words of wisdom that they imparted in the most quintessential way. Here is a quick recap of 5 badass things these divas taught us on dating on Swipe Ride.
1. My body is the least interesting thing about me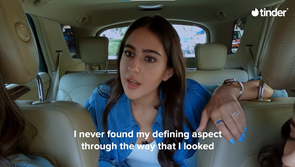 'I feel that because I was a fat child, in those formative years of my life – whether it's with a guy or friends or society in general, I never found my defining aspect through the way that I looked'
– Sarah Ali Khan
Mind you, this is not just Sara Ali Khan speaking, but the entire GenZ community. Women in this young generation are looking at making meaningful connections that go beyond just looks. It's no more about colour shapes and sizes but humour, knowledge, and wit! And if we were to mention the killer duo trait – It's humour X intelligence. This is the deadliest collaboration according to Sara. A recent survey by Tinder stated that Gen Zs value sense of humour (30%) and authenticity (15%) above all else, which proves that when it comes to dating – what's inside matters most.
2. Individualism is key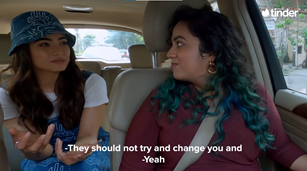 'They should make you feel good about yourself and not try and change you, that's all that matters
– RashmikaMadanna
The ideal match for a strong, independent, beautiful woman is not just a tall, dark, gym freak lad with a chiselled jawline. It is someone who is comfortable in his own skin. (And of course, someone who makes sure you're comfortable in yours.) Tinder's Future of dating report too stated that GenZs were looking for authenticity more than anything on their tinder dates. So don't try to be someone you're not!
3. Friends First, Date Later
'Love is Friendship – Friendship is really important to me because then all the barriers break on their own.'
– Athiya Shetty
Date second, friend first. Whether you are dating casually or seriously – for most GenZs, friendship is key. It's the foundation of any sort of relationship between two people as it breaks the comfort barrier and allows them to connect by sharing their interests. Rest assured, being friends with your date will result in a more seamless and free-flowing conversation and reduce the awkwardness and stress on the date, if any.
4. Normalize Female Desire –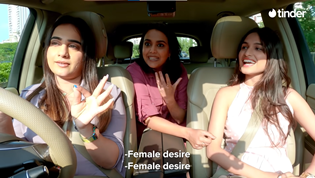 'There has been no representation of female desire in Bollywood songs. Such little has been spoken about it.'
– Kusha Kapila
Desire is a celebrated term, but whenever it's female desire, there's a taboo to it. Gen Z Tinder members respect honesty, truthfulness and vulnerability, regardless of gender. In fact, the pandemic led Tinder members to be more truthful and vulnerable about who they are with mentions of 'normalize' in bios growing more than 15X. On Swipe Ride, amid a very candid conversation, Swara and Kusha discussed how we must normalize female desire and that women must not shy away from discussing and embracing it, as it must be no different from a man's. Amen to that!
5. Introduce democracy in dating
'I think we need to introduce a little democracy in dating – there must be democratic consent.'
– Swara Bhasker
Growing up in a society that does not acknowledge the importance of discussing boundaries, modern dating can be complex for young Indians. Equality in relationships is of utmost importance! Genders do not determine who has the upper hand in any relationship. Both members on the date must have an equal say in decision making, no matter how big or small the decision may be. A report by Tinder revealed that Gen Z used their bios to make their expectations clear and facts straight – the word 'boundaries' was used more than ever (up 28% year on year), and the term 'consent' rose by 21%.
If you feel your date is not acknowledging or respecting your say, opinion, boundaries and the meaning of the simple word no – there's your giant red flag, hun.