Masha Art presents "I have a dream" a historical show by 18 eminent women artists- a blending of paintings sculptures and ceramics from 20th March 2022 at Masha Art, DLF Camellias, Gurugram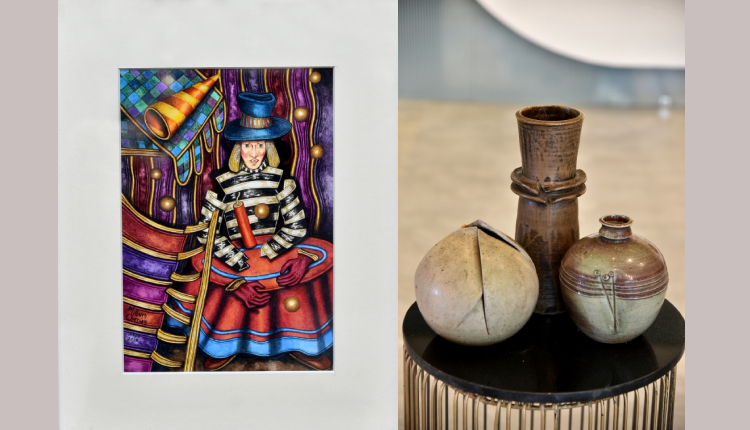 Opening on 20th March 2022 a historical show by 18 women artists from India will be inaugurated by architect-designer Meera Muzaffar Ali and Amitabh Kant- CEO, Niti Aayog. Curated by Uma Nair the show is a blending of paintings, sculptures and ceramics.
"I have a dream" is about celebrating the synergy of women in a world of great sadness and pain. It is a show that will reflect the beauty of creation and the freedom of spirit of women artists in India and dedicated to the doyenne ceramic artist Jyotsna Bhatt and printmaker/ artist Rini Dhumal — the two Gurus of MS University Baroda who passed away. The art show holds a candle to women artists across the ages, across the world in all mediums, materials, ideas and philosophy. This is a small tribute to the beauty of a woman creating in her own oasis of solitude.
"The world has millions of stories about women artists who struggle to find a style that matches their vision. All artists I feel must echo the philosophy of Francis Picabia who said artists must express the emotion that nature makes them feel without the least care for technique in order to reach their goals. I have picked women artists who have found their own pictorial freedom. I am looking at a show that exemplifies purity of thoughts in painting, sculpture and ceramics" shares Uma Nair, Curator of the show.
The exhibition which is set to begin on 20th March has artworks by eminent artists like Jayasri Burman's Shringar 1 a bronze sculpture specially created for the show. Nutan Pandit's Untitled work in a modernist Giacometti insignia of inspiration, Jyotsna Bhatt's 20-year-old ceramic ware, Leena Batra's platters, seminal abstract artists as well as Seema Koli's Ganesha and Arpitha Reddy's Kalpavriksha and artworks by other artists such as Chaitali Chanda, Gogi Saroj Pal, Milburn Cherian, Nupur Kundu, Prabha Shah, Ranjeeta Kant, Rini Dhumal, Rita Datta, Sangeeta Gupta, Saraswati, Sonia Sareen, Sujata Bajaj and Vasundra Tewari Broota. The show creates a synergy that celebrates the identity of the woman artist and transcends time and tradition.
"We want to launch our gallery as a space that seeks to showcase contemporary art at its best. Our presence at Camellias spells history. This exhibition is about the balance of many journeys. We are proud to host "I have a dream", which embraces a world vision. All of us have dreams" shares Samarth Mathur, Director and Co-founder, Masha Art.
The show is dedicated to the memories of Jyotsna Bhatt potter and Rini Dhumal printmaker, artist creator extraordinaire. We salute and pay reverence to these two Gurus with "I have a dream".