Samavesh Chamber of Commerce brings to you a unique online event that offers business solutions for the LGBTIQ+ community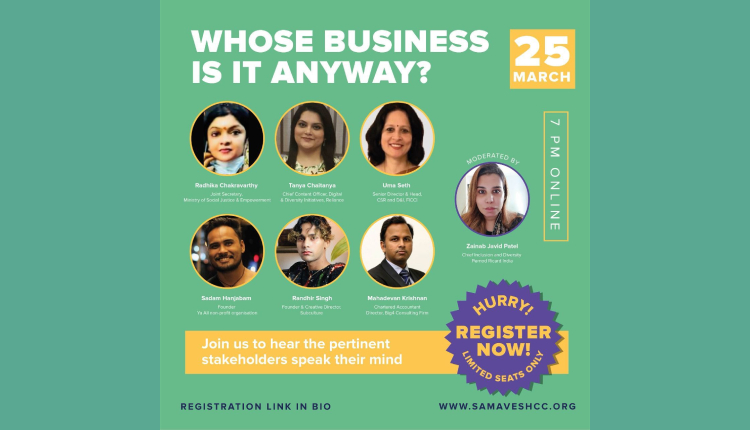 India's first Queer (LGBTIQ+) and Queer Ethnic Minority led organization, Samawesh Chamber of Commerce, brings to you unique solutions for hurdles faced by the LGBTIQ+ businesses through a highly insightful panel discussion: WHOSE BUSINESS IS IT ANYWAY?
WHOSE BUSINESS IS IT ANYWAY? A question that needs to be answered by many stakeholders. In January this year, in Samavesh Chamber of Commerce's panel discussion, they spoke to members of the community to ask them what ails their businesses. This Friday, 25th March 2022, the organization brings together a set of experts who will answer all your business-centric questions.
Join in and attend this illuminating discussion which brings to you a fresh perspective on business solutions and efforts being made by pertinent stakeholders for the growth of LGBTIQ+ businesses with the most renowned panel of speakers. The set of experts on this panel include Radhika Chakravarthy, Joint Secretary, Ministry of Social Justice and Empowerment; Tanya Chaitanya, Chief Content Officer, Digital & Diversity Initiatives, Reliance; Uma Seth, Senior Director & Head, CSR and D&I, FICCI; Sadam Hanjabam, Founder, Ya All non-profit organisation, Randhir Singh, Founder & Creative Director, Subculture and Mahadevan Krishnan, Chartered Accountant, Director Big4 Consulting firm. Moderated by Zainab Javid Patel, Chief Inclusion and Diversity, Pernod Ricard India, the online event explores aspects of sustainability and growth of LGBTIQ+ businesses. It will dwell on the importance of all internal and external stakeholders – the business owners, consumers, government, policy-makers, corporates in helping the growth of businesses and the LGBTIQ+ community itself. In this session, the organization explores how efforts are being made to help the LGBTIQ+ businesses by the pertinent stakeholders.
Register now and be a part of this online event to know what is in the offering to help your business grow. Limited seats only!
Date: 25th March 2022
Time: 7 PM onwards
RSVP Link: https://www.samaveshcc.org/