Explore the wilder side of Nevada: Animal Parks & Aquariums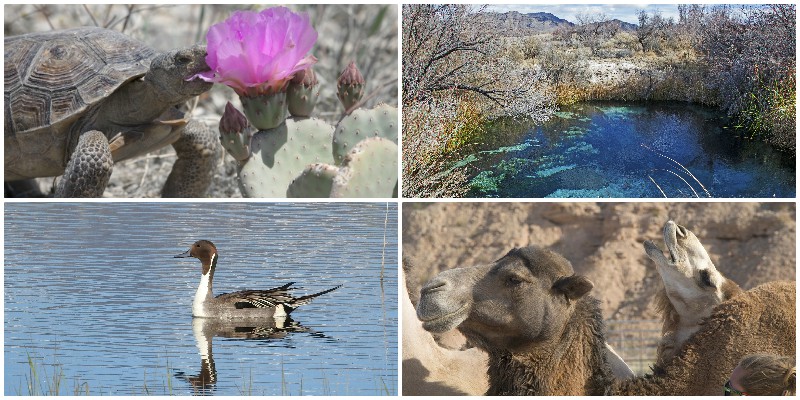 If you're visiting Nevada with children, you won't want to leave without visiting one of the Silver State's many enthralling animal parks and aquariums.
Safe Heaven Wildlife Sanctuary
Safe Haven Wildlife Sanctuary is a non-profit wild animal sanctuary located on 160 acres in Imlay, Nevada. The sanctuary is currently home to bobcats, cougars, African lions, tigers, African servals, foxes and more. Many of the animals have arrived from illegal breeding sites or abusive conditions. Medical care is provided for all animals for a better life.
Among its many rehab/releases, the zoo has successfully raised and released orphaned bear cubs into the high Sierra. Daily tours of the facilities are offered by appointment. Visitors may view and enjoy animals from the safety of the perimeter fencing. Educational tours and programs, outreach programs are also available. Guests often say that their visit to Safe Haven was one of the highlights of their Nevada vacation.
Camel Safari
With over 50 animals to meet and greet, there is something at Camel Safari for everyone to enjoy. Headquartered in the quiet unsuspecting community of Mesquite at Camel Safari brace for a truly unforgettable experience unlike any other in Nevada.
When visiting the property, visitors can choose from a variety of programs designed to suit every interest. The property is available for bachelor parties, weddings and other events, and offers a variety of ways to personally engage with the animals, under the professional guidance of staff.
Visitors can trek through the Nevada desert on an unforgettable safari atop one of the majestic rescue camels. On this tour, count on overlooking the beautiful Virgin Mountains and Virgin River, led by an experienced Camel Safari handler.
The Aquarium at the Silverton Casino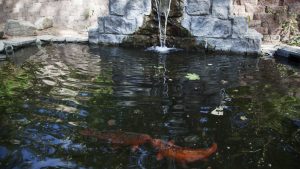 The 117,000 gallon saltwater aquarium is home to more than 4,000 tropical fish, stingrays, eels and sharks and interactive fish feeding shows.
It's a water attraction in the desert and named the "Best Free Attraction in Las Vegas". Other attractions at the aquarium include live Mermaids swimming, where kids and parents might see one or two mermaids interacting with our guests. It is a favorite for all ages, and  just part of what makes Silverton Casino the best of the family hotels in Las Vegas.
Guests won't want to miss the fresh water aquariums located on-site at the Bass Pro Shops. An 18,000 gallon water feature simulating Red Rock Canyon's beautiful rock formations is filled with spectacular live Koi. Three additional aquariums at Bass Pro Shop feature trout, channel catfish, carp and bass and include a flowing canyon river featuring ducks, turtles, bluegills and sturgeon.
The signature reef aquarium will transport you to a tropical oasis where you can admire thousands of tropical fish, and three species each of stingrays and sharks. The staff marine biologist is equipped with a full-face communication mask and answers guests' questions during the feeding show. In addition, the Mermaid Lounge features two 500-gallon jellyfish aquariums lit with LED lights.
Bass Pro Shops
Bass Pro Shops has 165,000 sq ft. of outdoor fun for the entire family. Attractions include a 40,000 gallon freshwater aquarium, rock wall, archery range, and shooting range. The Silverton Casino which is attached to Bass Pro has an 114,000 gallon saltwater aquarium and a custom Orange County Chopper specially made for Bass Pro Shops, which is located 3.5 miles south of Mandalay Bay.
Besides this a 40,000 gallon freshwater aquarium fed by a canyon waterfall, features fish native to the area. These are the fish that fishermen dream of catching or you may have heard about in some of their fishing tales. Large dioramas of various wildlife mounts are depicted in true-to-nature scenes with many of the exhibits coming from museums and private donations.
Other unique features include an indoor archery range, and a live duck habitat. Animal prints like mule deer, bighorn sheep, beaver, and ring-necked pheasant are imprinted in the concrete floor. A trout stream meanders through the store populated by brook, brown and the colorful rainbow trout–Nevada's most abundant game and fish species. There is something for everyone here at Bass Pro Shops.
Sierra Safari Zoo
Jimmie Martin, Dale McDaniel, and Dave Dawson once had a collection of exotic animals, most notably ostriches, on their land behind Bonanza Casino in north Reno. However, when the amount of animals they collected became a zoo, quite literally, they wanted a place for people in Reno to observe their animals.
Hence, they opened the Sierra Safari Zoo in 1990, and it has been fostering compassion for and knowledge about animals ever since.
While it isn't a rescue facility, the zoo provides homes for animals that otherwise wouldn't have one. Whether it is a reptile outgrowing its family, a primate from a research facility, or a wildcat leaving its previous owner, the Sierra Safari Zoo is willing to give the animals a home.