Acclaimed Author Vikram Sampath Talks About His New Book – Savarkar: A Contested Legacy, At Arth- A Culture Fest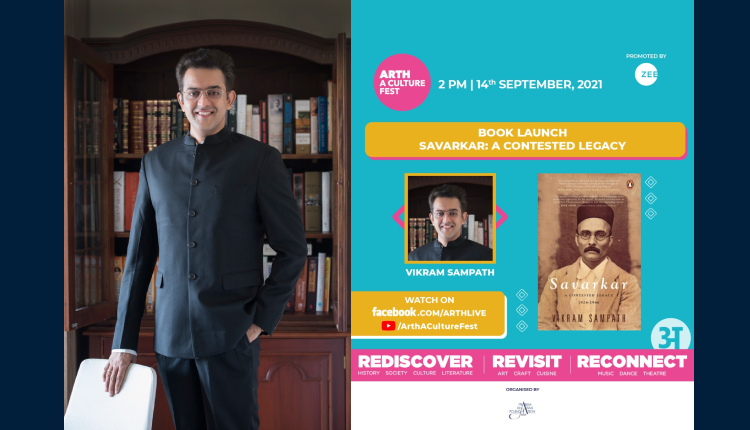 Arth- A Culture Fest, a one-of-its-kind cultural melange, is back yet again with something new. The platform that prides itself in talking about everything that is Indian to the very core, will be featuring the acclaimed author and Festival Director of Arth, Dr Vikram Sampath in a very special episode. Here the audience will see him talking about his new book Savarkar: A Contested Legacy from the recently hosted book launch on 1st September 2021 by Prabha Khaitan Foundation. An extension to his National Best Seller Savarkar: Echoes from a Forgotten Past launched in 2019, this book delves deep into the changes and reforms that Swatantryaveer Vinayak Damodar Savarkar implemented in the Indian society while serving a sentence of 13 years in a house arrest in Ratnagiri, his role as the President of the All India Hindu Mahasabha and his life after India's independence.
In spite of playing an integral role in the fight for freedom, Savarkar is one of the most misunderstood, under-evaluated & maligned characters of the recent past. His philosophy and ideas are so relevant in India even today, yet there is this alarming lack of curiosity to assess his legacy. This is why the author took it upon himself to assess and re-evaluate the man and his times in an objective material, backed by strenuous research and documentation. The detailed articulation in both of the volumes Savarkar: Echoes from a Forgotten Past and Savarkar: A Contested Legacy is proof of the hard work put in by the author in the last five years to understand and bring to fore who Veer Savarkar truly was.
Hosted at the India International Centre, Delhi, this special event was graced by Honourable Finance Minister Smt. Nirmala Sitharaman, Mr Sanjeev Sanyal, Economist, Urban Theorist & Author and Ms Shubhrastha, Founder of Churn Live & Author.
The special episode will be streamed on Facebook and YouTube pages of Arth – A Culture Fest on 14th September 2021.
Talking about his book and the association with Arth- A Culture Fest for the special feature, Dr Vikram Sampath, Author, Historian & Festival Director, Arth said, "Arth, as we conceived it, has always been a platform for free thought and expression on every aspect of India's history, culture, heritage and society. It is hence so apt that Arth is collaborating with us in the launch of the book in Delhi to discuss the life and times of such an important historical figure of India like Veer Savarkar."
Sharing his thoughts, Swaroop Banerjee, Chief Business Officer, ZEE LIVE said, "Arth is and will always be quintessentially Indian. This is a platform that has been created to solely promote the richness of our country, may it be the culture, academics, our heritage, or the freedom struggle that our founding fathers fought for a free India. It is our extreme pleasure and honour to have been a platform to promote our very own festival director – Dr Vikram Sampath's second part of Veer Savarkar's Biography. With it revolving around the life of one of the most inspirational individuals in Indian history coupled with Vikram's penchant for storytelling, I can assure you that it is a must-read for anyone who is interested in history and heritage of India."