Celebrate the happiness of the holiday season with delightful Christmas Hampers from Provenance Gift's first boutique in Chennai at Express Avenue Mall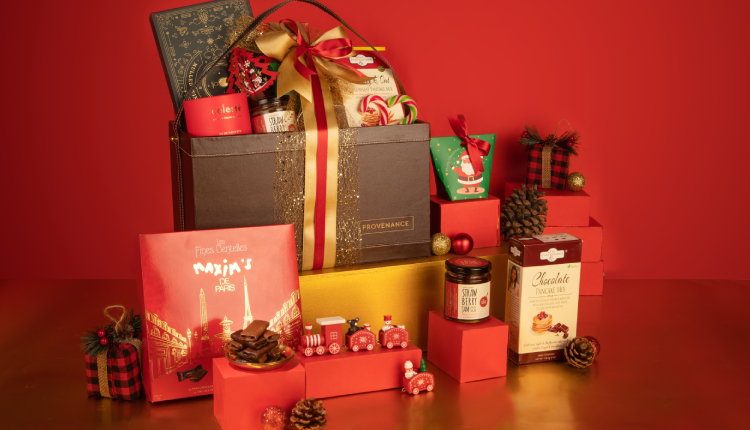 A curated library of fine foods and gifts. Provenance shines light on emerging brands and artisans from India and beyond.
With Christmas around the corner, Provenance introduces an indulgent collection of gifts that are a celebration of the joyful spirit of the season. The plethora of options means there is something for everyone this Christmas. Apart from thoughtful hampers and New Year gifts Provenance has curated, handcrafted ornaments and baubles, stocking fillers, Christmas themed candy and lollipops, hot chocolate, gingerbread cookies, candy canes, Christmas activity kits for families and more.
From gift boxes inspired by expressionist art, to premium leather trays to baskets and Christmas stockings, each hamper has been designed to showcase independent specialty brands that offer authentic and high-quality products.
Provenance is a gourmet gift boutique offering carefully curated gourmet and lifestyle products. Each brand showcased at Provenance was selected for being authentic, high quality and meticulously produced.
The brand's exclusive stores are present in five unique locations – a ground floor store in Palladium in Lower Parel, an exploratory island-store in UB City in Bengaluru, a converted villa store in Bandra and a beach store built into a container in Alibag, an open concept experience at the Chennai Express Avenue Mall.
Provenance Chennai showcases and retails luxury gourmet products thoughtfully selected from different parts of the world, including the largest collection of exclusive, gourmet chocolates in India – Royce' from Japan, Maxim's de Paris from France, Willie's Cacao and Love Cocoa from the UK.
A bit about the new Provenance Christmas Collection –
THE CHRISTMAS PANTRY GIFT BOX
Make your Christmas merrier! The Christmas Pantry Gift Box includes an assortment of cake mix, pancake mixes, jams, mulled wine kit, toffee bags, dragees, candy canes and ornaments. This hampers retails for Rs 7,203/-
THE 'MERRY CHRISTMAS' GIFT BOX
Make the holidays so much sweeter with our 'Merry Christmas' Gift Box. This hamper includes hot chocolate, marshmallows, chocolates, candy canes, candies, Christmas baubles and toffees from Maxim's, Royce', Papabubble, Willies Cacao and Love Cacao. This hamper retails for Rs 10,850 /-
THE WINTER WONDERLAND GIFT BOX
Send this delicious assortment to everyone with a sweet tooth this holiday season! This gift box includes hot chocolate, marshmallows, chocolates, wooden ornaments and candy canes. This hamper retails for Rs 3,420 /-
THE AFTER-DINNER HAMPER
This gift box includes chocolates, truffles, dragees, marshmallow, hot chocolate and cashew pralines from Royce', Willie's Cacao, Maxim's, Papabubble, Provenance and more. This hamper retails for Rs 3,420 /-
COFFEE LOVER'S GIFT TRAY
This gift tray includes moka pot, coffees, crepes, chocolates, and teas. This hamper retails for Rs 8,979/-
Christmas Hampers; Provenance Chennai
Address: Provenance Chennai,Express Avenue Mall,17, Pattullos Rd, Thousand Lights, Chennai : 600002
Price: Starting from INR 3420/- to INR 10,850/- (excluding taxes)
Store Hours: Mon – Sun 10:00am – 10:00pm
For bookings, please contact: +91 98333 15569