Khul Ke Rolls Out Its First Campaign 'Naya Daur – What's Next, India?' to Commemorate India's Glorious Run of 75 years of Independence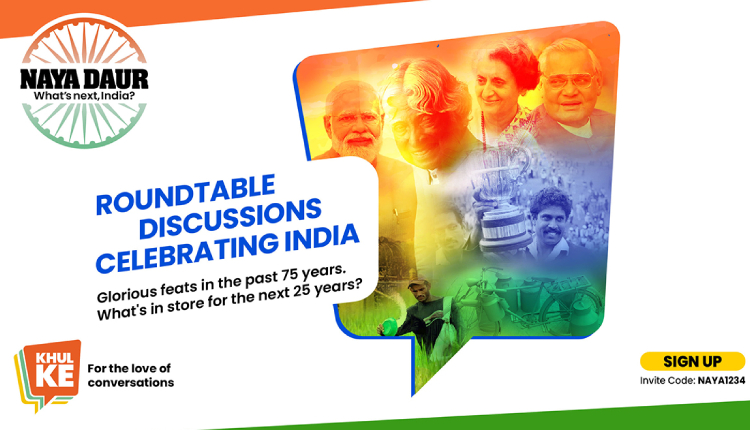 Khul Ke, a brand-new social media platform that was launched by Loktantra Mediatech earlier this year, has rolled out its first campaign "Naya Daur – What's Next, India?" to commemorate India's glorious run to its 75th Independence Day on 15th August this year. Khul Ke is a one-of-a-kind platform that has been launched to empower the audience to have more informed and meaningful conversations. It is the only social media platform that allows video, audio, and text-based conversations and gives audiences a 360 experience.
In the past 75 years, India has completely transformed its image through many extraordinary achievements. From a nation that carried parts of a rocket on a bicycle to a nation that sent a satellite to Mars. From a nation of snake charmers to a major IT service exporting country. From a group of princely states to the world's largest democracy. From a nation suffering from epidemics to a nation that conducted 25 million vaccinations on a single day. India has come a long way. Naya Daur embodies the current phase where India knows how to play the game of diplomacy, mesmerize the global audience with its music, art, and cinema, and has made strides with its technological innovations. The tagline "What's next, India?" captures the sentiment of a nation hungry for growth, development, and innovations to change the course of humanity.
India is a nation now racing towards 100 years of Independence. While the campaign honours and celebrates its achievements after independence, it also questions what's in store for the country and the people in the next 25 years. As a part of the campaign, Khul Ke will host various RoundTables and discussion forums on India's politics, sports, cinema, art & culture, science and technology, and business & economy with known experts from the respective fields.
Additionally, as part of the rollout, the company has launched a campaign film in the voice of a renowned actor, singer, and lyricist Piyush Mishra. The animation film traces India's remarkable achievements since Independence and speaks about hope, as the nation is on the brink of a new dawn. The campaign will be rolled out across social media platforms, theatres, and radio stations.
Speaking about the platforms first campaign roll out, Piyush Kulshreshtha, Director & Chief Executive Officer, Loktantra Mediatech shared, "Khul Ke is conversations platform. Users can hold conversations freely in audio and video formats on topics of their own interests. As compared to the existing Social Media platforms, it is our strong belief that Conversation will create possibilities and SM platforms of future will be based on Conversations"
He further adds, "Khul Ke is at the moment in its test-phase. We are testing the platform for performance and security. While doing so, we needed to hold regular conversations, and were exploring a positive agenda. With 75th Independence Day coming up, our team decided to experiment with the idea of holding conversations around last 75 yrs and future 25yrs. It gives us an opportunity to experiment with variety of content, depth of conversation, quality of Moderators and Panelists, and interests of audience. Considering we are still in test-phase and nobody knows about the platform, the topics, the moderators, the panelists and the amount of time audience spends in such conversations tells us that we are in right direction. We will continue to bring variety & quality of content through interesting moderators and panelists for audience that likes to get to the depth and make sense of things they like to discuss. We are sure India will like our format and will join the platform soon."
Manish Agarvwal, Chief Marketing Officer, Khul Ke shared, "Our campaign 'Naya Daur – What next, India?' reaches out to people across age-groups and walks of life who want to either opine or listen to what industry leaders must share. The objective is to celebrate the landmark moments not just on one day in August but to relive past achievements and take time to prepare for the coming years. The campaign has been rolled out across theatre, radio, digital and social media platforms to create awareness about the platform"