Learn the innovative skills of Flairing with Santhosh Kumar at 'Mount Road SOCIAL' on Thursday, 24th February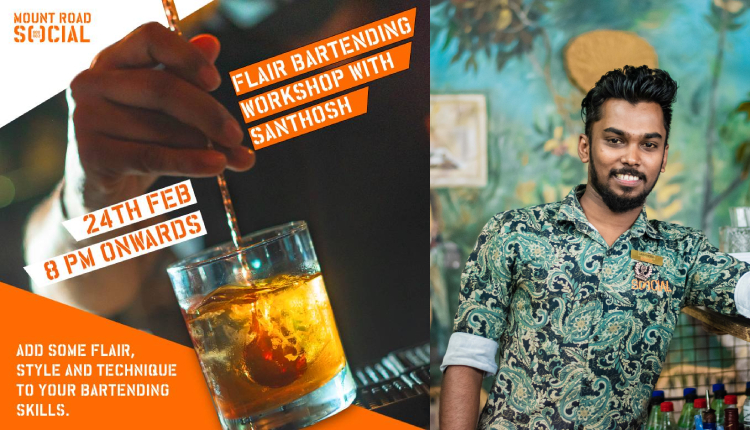 Flair your way through to Mount Road SOCIAL. This Thursday, your favourite neighbourhood café is here to teach you the most unique skills which are sure to make you the highlight of every party! Learn the innovative methods of Flair Bartending with Santhosh Kumar at Mount Road SOCIAL. Juggle through the manipulation of cocktail shakers and liquor bottles in dazzling and tricky ways.
Learn the basics and practice through to flaunt your newly learned skills set at your very next party. Be sure to drop by Mount Road SOCIAL to add some flair, style and technique to your bartending skills with SOCIAL's very own award winning Head Flair Bartender, Santhosh Kumar.
Flair Bartending workshop with Santhosh Kumar at Mount Road Social
Date : Thursday, 24th February, 2022
Address : 1st Step Baby Shop, Express Avenue Mall, E Hotel, Gate 1, Patullos Rd, Royapettah, Chennai, Tamil Nadu 600002
Time: 8:00 PM Onwards.
Call : 8657989073 for more details.