Join us at the RCB Bar & Café this Saturday, Museum Road Church Street, 12 pm onwards for an immersive RCB experience as we celebrate 14 years of our legacy. Draw inspiration from the boldest moment from our past and pave the way for a bold future.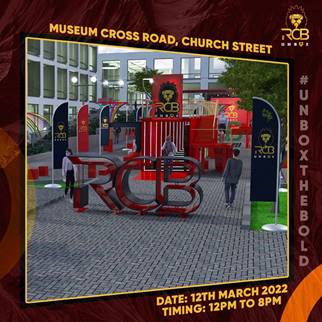 The Royal Challengers Bangalore is excited to paint the city red with its extravaganza galore. A day filled with Live Acts, Performances of Popular Musicians to keep you grooving and cruising across different art, dance, fashion, and culture stages. Plan your weekend binge for the diverse food stalls in the heart of the city. This colourful carnival brings the nation's favourite franchise, Royal Challengers Bangalore, close to its fans with "RCB Unbox" on 12th March 2022. Meet your favourite RCB players live on location reveal the New Jersey as they walk the ramp for the very first time.
Royal Challenger Bangalore Bar & Café announces The launch of RCB Unbox – An immersive experience filled with food, music, dance, art, culture and cricket. Check the following links to know more about "RCB Unbox".
https://www.instagram.com/p/Ca64ZXPBxdE/
https://www.instagram.com/royalchallengersbangalore/
https://www.instagram.com/p/Ca6j1b0If68/