The Countryside of Philadelphia is a great addition to your East Coast itinerary, coupled with big city experiences of Philadelphia. Brandywine Valley is also home to an array of intriguing museums, historical landmarks, extravagant botanical gardens and more, making it the perfect place to holiday and create new memories.
Brandywine Valley, in addition to great F&B options, unique gardens and more, offers some of the best brews for lip-smacking drinks, beers, and cocktails. The American Revolution-themed "Barracks" taproom, The Artillery Brewing Company is tucked into the West end of the borough of West Chester, with a small kitchen menu featuring sourdough pizza and other specialties, and a line-up of ten taps with a range of American, Belgian, Czech, English, and German beer styles brewed on site. Be Here Brewing Company is Avondale Pennsylvania's first-ever brewpub where both residents and visitors can eat, drink, and socialize. Set in the heart of West Chester's borough, Greystone Oyster Bar and Restaurant offers a unique blend of casually refined dining in a hometown atmosphere with a metropolitan aesthetic. The full-service bar offers an array of wines by the glass or bottle, creative craft cocktails, and brews from local Pennsylvania wineries, distilleries, and breweries.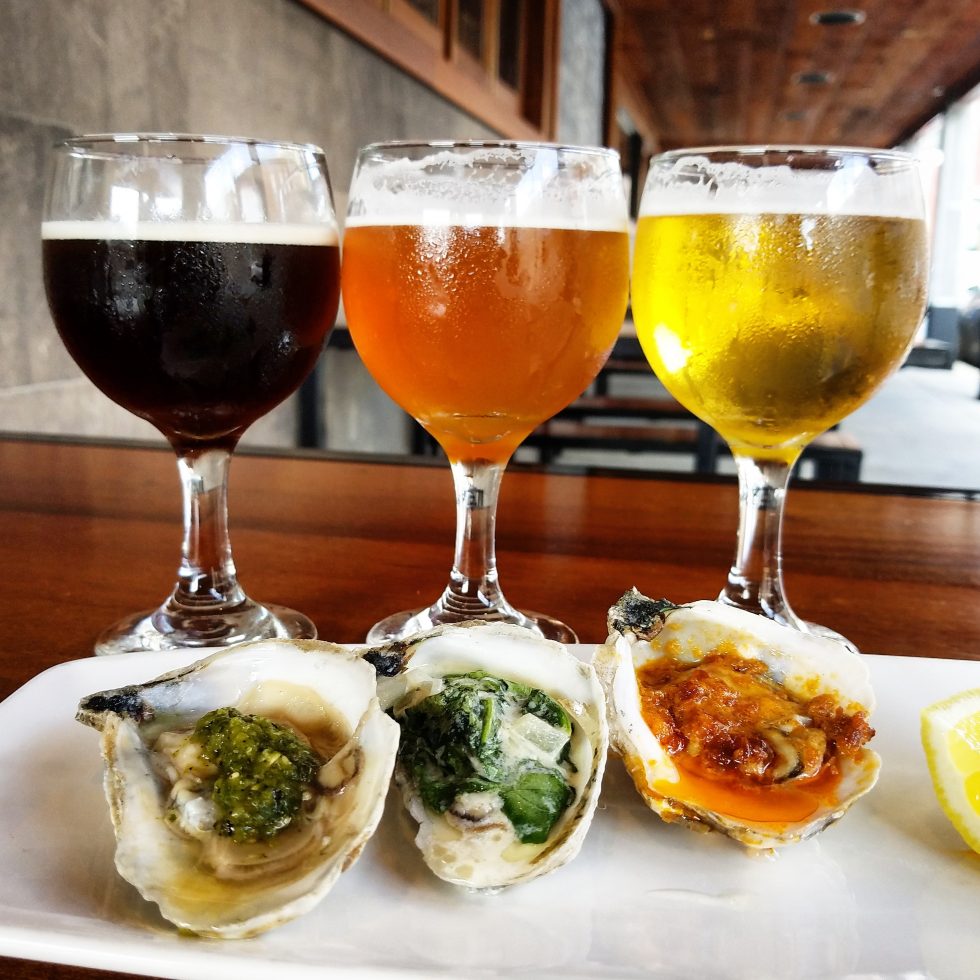 Through a combination of replicating traditional styles and creating innovative interpretations, Kennett Brewing Company provides a tasting experience like no other. Customers get the opportunity to affordably enjoy the finest beers flavors from around the world at a single location. From traditional English styles to the ground-breaking innovations of America's West Coast, customers explore flavors that may take a lifetime to enjoy. Braeloch Brewing's taproom features a 75 ft long bar set in a spacious 4,000 ft2 taproom that is also filled with booths, community tables, a living-room section, and smaller tables as well. The taproom and bar are set up so groups can gather, can meet new people, or simply keep to yourselves all while enjoying fresh brewed craft beer. East Branch Brewery Company is another hot-spot located in Downingtown, PA, and currently brews 10 stellar craft beers.
La Cabra takes great pride in all three aspects of the ultimate guests' experience: beer, food, and service. The team is dedicated to producing excellent beer and food. Their motto, Gran Vecino ("great neighbor") represents their commitment to making the community a more vibrant, fulfilling place to live. Levante Company aims to infuse the old-world craft of brewing with new world style for the present-day beer enthusiast; delivering full-flavored artisanal beer of exceptional quality to Philadelphia's western suburbs and beyond. Sly Fox's newest location just opened in Malvern. Sly Fox has brewed more than 100 different beers since the doors first opened in Phoenixville in December 1995. Several of them are available year-round on a rotating basis at the pub. Others are either seasonals, occasional brews or special one-time releases.
Father and son, Will and Bill Mangan have created a classic grill + neighborhood pub adding a layer of comfort that is stylish, eclectic and energetic. Will's + Bill's Brewery showcases a large island bar, roaring fireplaces with limestone mantels, vintage sporty decor, covered outdoor dining, tasty and approachable foods from here and abroad. The bar offers handcrafted beers, curated worldly whiskeys and wines, and a host of cocktails. W+B's brings to the guests passion for hospitality dating back to 1948.
Wine is also a big component of the Brandywine Valley area with attractions like 1723 Vineyards, Brandywine Valley Wine Trail, Chaddsford Winery, Flickerwood Wine Cellars & Twisted Treats, Galer Estate Winery, Paradocx Winery & Vineyard, Penns Woods Winery, WayVine Winery & Vineyard, and many others to add to your travel itinerary.
The area is also a hot spot for gardens. Renowned for its holdings of the Wyeth family of artists, the Brandywine River Museum of Art features galleries dedicated to the work of N.C., Andrew, and Jamie Wyeth. Chanticleer is another 35-acre garden featuring lush courtyards of tropical, perennials, containers, cut flowers, and vegetable garden; water gardens, ponds, exotic woodlands, and a spectacular ruin garden. Also, make sure to visit restored mills, a worker's community, and the ancestral estate of the duPont family. In the heart of the Main Line of Philadelphia, Jenkins Arboretum & Gardenis one of eastern Pennsylvania's major horticultural and environmental assets. This botanical garden preserves and nurtures forty-six acres of Chester County's rapidly disappearing natural environments. Longwood Gardens offers a new experience every day with special events, concerts, and cuisine. The 1077 acres of woodlands, gardens, conservatories, and fountains are open every day of the year. Other places to visit include Mt. Cuba Center, Nemours Estate & Gardens, Tyler Arboretum, Welkinweir, and Winterthur Museum, Garden & Library.