CHANDON INDIA PRESENTS – 'OWN THE SUNSET', A CAMPAIGN CELEBRATING THE PERFECT MÉLANGE OF SUNSETS AND CHANDON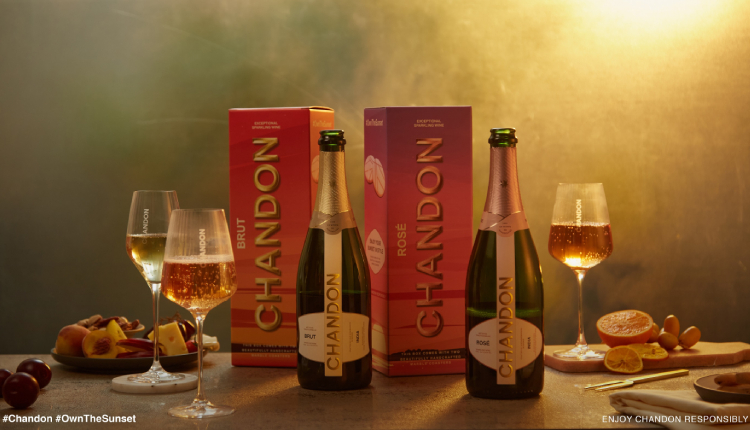 Inspired by the breathtaking sunsets at Dindori, Nashik, Chandon India has announced an immersive omnichannel activation – 'Own The Sunset', encouraging consumers to commemorate the season of changing sunsets during the Monsoons and escape from the hustle & bustle of day to day life and reflect over a glass of Chandon.
Since its launch in the country in 2014, Chandon India has continued to embrace the idea of celebrations regardless of how big or small they may be. Chandon aims to be the sparkling wine of choice for informal, spontaneous occasions; a wine to be enjoyed in cocktails on the beach or at brunch with friends. This positioning is now expressed through unique campaigns through the year that are amplified both digitally and on-ground, while following all safety measures and protocols.
Own the Sunset has been designed as an unconventional, powerful & phased campaign with a purpose to amplify community advocacy through authentic, local and relevant partnerships.
Addressing the thought behind Chandon India's latest campaign, Ipsita Das, Managing Director, Moët Hennessy India, said, "Chandon India remains committed to constantly evolve with changing times and finding reason to celebrate the now. Own the Sunset is an ode to better times, to a generation that got through a pandemic and a reminder to pause and be grateful for life, cherishing moments like a picturesque sunset, that we may have taken for granted, while sipping on a glass of Chandon. Every aspect of the creative work and subsequently each chapter of our campaigns are designed to be audacious & filled with surprises."
The Own the Sunset campaign was activated in July and over the next few months will continue to see integrations on the ground and online. The campaign simultaneously amplifies the launch of the limited-edition Own the Sunset gift packs that showcase a beautiful sunset against a one-of-a-kind packaging that includes special offerings – unique to each variant – the Brut & the Rosé. This is currently available at select outlets across India.
Chandon is currently available Pan-India, in cities such as Mumbai, Delhi & Gurgaon, Bengaluru, Punjab, Chandigarh, Goa, Pune, Bangalore & Assam at select retail & on-premise outlets.
In select regions, it is priced at INR 2500 and is subject to vary from state to state.
Instagram: @chandonindia
Enjoy Chandon Responsibly
Content to be viewed/shared by those above 25 years of age only