DORITOS SETS UP 'BOLDLINE' TO HELP TRANSFORM BOLD DREAMS INTO REALITY IN COLLABORATION WITH KARTIK AARYAN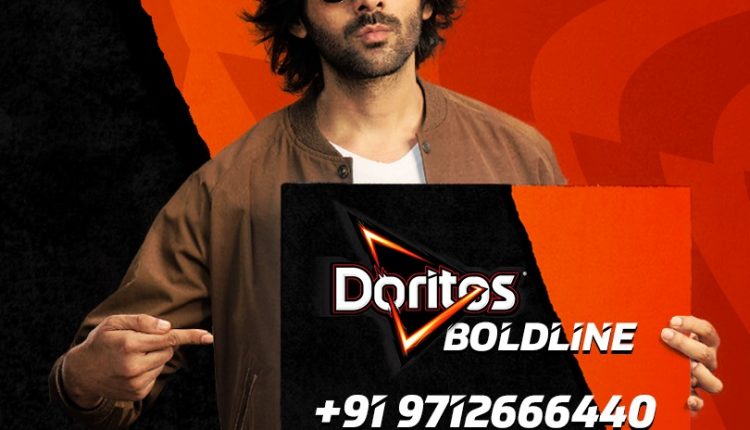 Extending its 'For The Bold' campaign that celebrates 'bold' self-expression, Doritos, the world's number one Nacho Chip brand*, has set up a 'Doritos BoldLine' to transform 'bold' dreams into reality. Consumers can call (+91 9712 666 440), record their 'bold' goals and stand a chance of being supported by Doritos in making their aspirations a reality. The 'BoldLine' number was officially launched by Doritos brand ambassador and Bollywood's youth icon, Kartik Aaryan on his social media handle.
The Doritos BoldLine number is the same phone number shown in the latest Doritos TVC. Even before Doritos officially announced the launch of the BoldLine, the brand received over one lakh calls across 24 states in a short span of one month. With calls pouring in from across the country, Bihar tops the list with the highest number of callers, followed by Uttar Pradesh, Madhya Pradesh, Rajasthan, Delhi-NCR, and West Bengal. The callers have expressed a wide range of 'bold' ambitions, be it academic, career, entrepreneurial, or even philanthropic. The winner will be announced by Kartik Aaryan at a special event.
Speaking about the unique initiative, Doritos brand ambassador Kartik Aaryan said, "Doritos never ceases to amaze me with their unconventional and larger-than-life ideas. So, when I first heard of the Doritos BoldLine and how it encourages consumers to fulfill their bold dreams, I knew I wanted to play a much bigger role in the movement. Turning dreams into reality takes a lot of courage, and I am extremely delighted to get an opportunity to inspire people and support them in making their dreams come true."
Sharing his thoughts on the BoldLine, Ankit Agarwal, Associate Director, Brand Marketing – PepsiCo India said, "There is nothing bolder than achieving a dream you set out for yourself, and as a brand that exemplifies "For the Bold", the Doritos BoldLine was a natural extension to our campaign. We hope that with this initiative, we can inspire people to follow their hearts and dream big! The vast spectrum of bold dreams and aspirations that have been shared with us is a representation of how brands can be mediums of trust and enablers of change in today's world. Our bold dream is to change lives, one bold move at a time."
An independent jury will choose three 'bold' dreamers after careful evaluation basis the judging criteria. Entries are open till 28th February 2022, consumers can call the Doritos BoldLine on +91 9712 666 440 to participate and visit the website www.pepsicoindia.co.in/live/story/the-doritos-boldline to know more and read the terms and conditions of the Doritos BoldLine initiative.