Exotic with a contemporary twist, the wild side of life comes alive at Amazonia with luxurious experiential dining.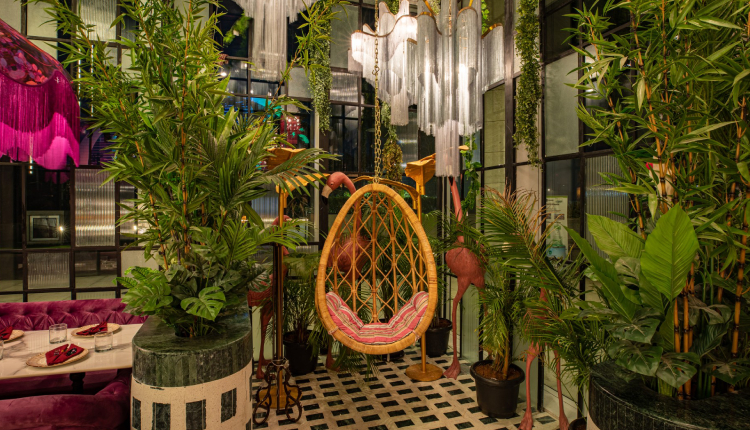 Carnival spirit like the wilds of Amazon, luxury dining experience, sublime gastronomic paradise, and tropical slick entertainment – the wonderfully unique Amazonia will colour you charmed.
Serving up modern interpretations of the vast beauty and cultural diversity of the Amazon region, Amazonia lets you channel your inner explorer to be curious, wild and secretive, all at the same time. A spectacle for the eyes and a pleasure for the senses, diners are surprised with hidden mysteries waiting to be discovered.
Cleverly designed to evoke the forest vibe of South America, with a jungle's worth of plants there's an unmistakable sense of grandeur when you walk in. Making quite the impression, the five separate but vividly connected areas, gives the illusion of intimacy while retaining the buzzy atmosphere.
An extremely glamorous tropical vibe, Amazonia is all very 'shrubbery chic', with exotic flora and gargantuan animals in abundance, as centrepieces and section dividers. Every inch of the restaurant, from its textured ceiling and glass façade that steams different shades of sunlight, to the velvety-colourful fringed lampshades hanging above low-lit booths to the mezzanine dining space, is all a lesson in carefully considered maximalism.
"While remaining deeply modern, I love to reimagine what excellence and creativity can look like across our restaurants to strengthen our appeal as a sensational dining destination for all our guests. Inspired by my travels to the Amazon, a magical and mystical vast land full of frondescence, water bodies, and vivid, exotic species, Amazonia brings the spirit of carnival into the world of luxury dining and stimulating entertainment. The focus was on recreating the expanse in design by contrasting it with surprising little exotic elements, open to be found by anyone actually looking for them ", says Prasuk Jain, Owner of Amazonia.
An all-day dining place, Amazonia takes the concept of food as art very seriously, offering a variety of highly delectable global cuisines with a refined sensibility. The menu is divided into Japanese, Korean, Thai and Italian including salads, grills, sushi, bites, fish and meat, and encourages experimentation and sharing – satiating the pickiest of appetites. The culinary highlights include Grilled Polenta & Cottage Cheese, Amazonia Chicken Chili Oil Dumplings, Kimchi Yakisoba, Kyui Wakame No Amazu-Ae, Amazonia Matcha Crème Brulee. The drinks menu brings unique flavour combinations with focus on cocktails and mocktails with fun fusions like Mexican Little Pamlo, Brazilian Samba, Cuban Pain Curer, Amazonia Siesta, Namakemono, Jhon Rose About Girl, Ovant Ticklet and rotating classics like Manhattan, Margarita and more.
Attention to detail is at the core of Amazonia. From service and setting, the menu and even the entertainment, all help create a truly luxuriously exotic, yet contemporary elevated experience. A welcome addition to the ever-growing BKC foodie scene, so get a table quick, if you can!
Address: Unit no.5, Godrej Building, Avenue 3, G-Block, BKC, Mumbai 400051
Instagram: https://instagram.com/amazoniamumbai?igshid=ZmRlMzRkMDU=