Get your taste buds tingling with this curry leaves dish by Minoli De Selva of MasterChef Australia: Fans & Favourites; streaming now on Disney+ Hotstar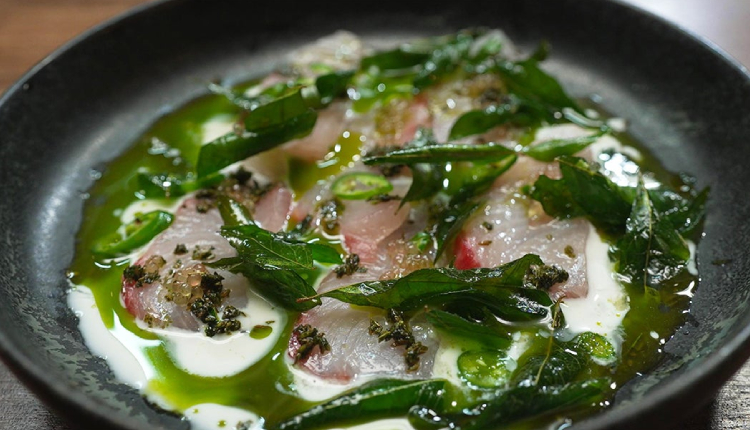 Like a pearl shining on the shores of the deep green sea, Minoli De Silva's Curry Leaves Curd Kingfish was a dreamy sight and a feast for the taste buds of the Judges. The delicacy stood out in the Alphabet mystery box challenge in the latest episode of MasterChef Australia: Fans & Favourites, for its divine looking dish. Produced spectacularly in a charming green curry leaves oil, the Kingfish was royally cooked and served with a mix of crispy curry leaves, and coconut cream sauce with cumin dust splashed on top of the dish.
Calling it exceptional, Judge Melissa Leong lauded the flavoursome dish as the next evolution of Minoli's culinary journey and said that anyone would a premium price for the looks alone. The food critic also said that the dish was layered with flavours and textures.
Prepared with the most basic ingredients and simple techniques, this Curry Leaves Curd Kingfish dish can be your star kitchen dish too. Here's the recipe:
To prepare the curry leaves, heat the oil to 170°C. Add the curry leaf sprigs in batches and fry until bright green and crispy, about 10 seconds. Remove from the oil and place on a paper towel to drain and cool.
For the Cured Kingfish, combine the salt, sugar, cumin seeds and 4 sprigs of crispy curry leaves in a bowl.
Lay a large length of cling film on the bench and place half of the cure in the centre. Place the kingfish fillet on top and cover the fillet completely with cure. Wrap tightly in cling film, tuck the ends under and place onto a tray. Set aside in the fridge for 30-35 minutes.
Remove from fridge, wash off the cure and pat dry. Return to the fridge and slice thinly when ready to serve.
Bring a small saucepan of water to a boil and prepare an ice bath in a medium bowl.
For the Curry Leaf Oil, blanch the coriander for 10 seconds, then strain and submerge in the ice bath to cool. Drain well and squeeze out the excess water. Meanwhile, heat the grapeseed oil in a small saucepan to 60°C.
Place the coriander leaves, warm oil and crispy curry leaves into a blender. Blend on high speed for 1-2 minutes until smooth and the oil is a deep green colour. Pour oil through a lined sieve and set aside to strain. Season with a pinch of salt, to taste.
For the Coconut Cream Sauce, combine the coconut cream, treacle and lime juice in a bowl and season with salt to taste. Set aside in the fridge.
For the Curry Leaf Dust, toast the cumin seeds in a dry frypan until fragrant. Allow cooling. Place into a spice grinder along with the crispy curry leaves and a pinch of sugar and salt and process to rough dust.
To serve, arrange cured kingfish slices on 4 or 6 flat serving plates. Add some coconut cream sauce, curry leaf oil, curry leaf dust, crispy curry leaves, chilli slices and finger lime caviar. Add a wedge of lime to each plate and finish with a pinch of salt flakes.
~Watch MasterChef Australia: Fans & Favourites served hot only on Disney+ Hotstar ~