India Cocktail Week Presents- The Cocktail Week Gurgaon Edition 2022, The Enchanted Jungle at Horizon Plaza on 17th, 18th, and 19th June 2022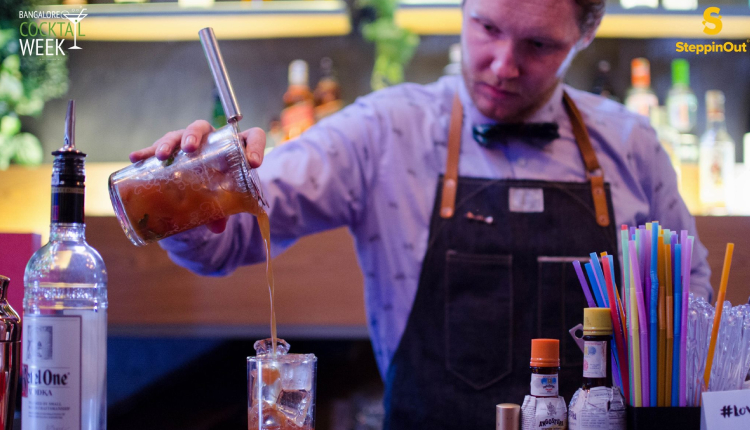 Here to pour respite within the capital's scorching Summer is The Cocktail Week Gurgaon Edition 2022 being held at Horizon Plaza on 17th, 18th, and 19th June 2022, timed 12 pm-11 pm. Drawing inspiration from global festivals championing cocktail concoctions amidst festivities, India Cocktail Week was conceptualized and incorporated in 2015; its first edition was held in Delhi NCR which saw 150+ bars participate in the event. With in-depth research spanning a year, the event successfully grew across the country.
Alongside Beer Week celebrated with 20+ breweries in Gurgaon, this would mark the 5th edition of Cocktail week. With impeccable mixologist showcasing their expertise, scrumptious eateries serving and musical artists adding a lively aura to the event, this cocktail week is coined around a carnival- titled "Enchanted Jungle" The festival is divided into 6 different zones, each one delivering its own experiential memory keepsakes to attendees. The zones are as follows:
Bar Experience Zone- Where the best of the liquor brands and cocktail pop-ups will be showcasing their global cocktails experience. Pouring partners such as Absolut, Jimmy's Cocktails, Bacardi, Kingfisher and Jägermeister among others will be creating unique and delightful concoctions.
Workshop Zone – Here, a host of tasting/Masterclasses/ will be held with a brand ambassador to provide insights to curious audiences.
Activity Zone – The event would include immersive activities such as face painting/ beer pong/ spin the wheel/stone painting/ taboo/ a VR Zone and much more.
Market Zone –The Zone would include numerous upcoming brands who will showcase their creative handicrafts/merchandise that make for a shopper's paradise. Some of the brands to look out for are Nutraleaf, Signs of Happiness by Atulyakala, Stage 3, Cosmya India and many more.
Chill Zone – The Zone will be lined with upcoming food stalls and cloud kitchens whilst encouraging home chefs to display their lip-smacking food to pair with the beverages. The area would be lined with picnic benches, providing optimum comfort and relaxation to patrons during their visit.
Music Experience Zone – The music arena would feature a fabulous artist lineup of Indian upcoming rappers/ Bands/ DJs sets/Saxophonists and many more. Some of the artists performing over 3 days include DJ Gurbax/ Winston Balman Rock Band/ Unplugged Project/ Maa Faiza/ DJ Bahaar/ BakFlash and many more. The Main Arena is lined with creative Karts to give music lovers some refreshment/ boozy popsicles along the way.
Serving scrumptious meals at food stalls are brands such as Burgerama, Burgrill, Francesco Pizzeria, Currynama, Chai Lelo, LizLady and many more. In addition, quirky carts like Sorbet Ice Cream and Boozy Popsicle by Minus 30, Fresh Coconut Bar/ Lemonade Bar/ Bunta Bar/ Beer Brands will splash the event with refreshments and fun. A host of photo booths and a 360 shooting in different zones will ensure the events are captured in time for people to remember.
All necessary safety precautions will be taken at the festival: all participants and vendors of the festival will be checked for temperature and required to follow all hygiene practices. There will be enough water/ lemonade stations in all zones to keep patrons hydrated during the day. There will be dustbins and proper housekeeping to keep the area clean to avoid any spread of infection. All the zones are separated with enough distance between all sitting to avoid crowding of people in a particular area. All disposal will be used during the festival to avoid any hygiene and safety due to breakage due to major crowding. One Medical Kit will be there at the admin in case of any medical emergency. Cocktail Week will be a backup room for all materials and supplies to make sure all necessary items are available throughout the 3 days.
Experience the thrill of bar-hopping with the best of brands under one roof- only at Cocktail Week Gurgaon Edition
Archit Singhal, Founder of the much-awaited cocktail celebration, shared, "Gurgaon is known for its vibrance and diversity. With Cocktail Week Gurgaon Edition, it's a perfect chance for City Peeps to raise their cocktail glasses, explore the best bars under one roof and say in unison– Cheers! This time, we bring in a lot of diversity with our partnering brands with a host of experiences, post covid to regain our lives and make special moments with our loved ones over 3 days of festivities.
Cocktail lovers, welcome to a weekend-long party to explore the happening cocktail scene and cityscape of Gurgaon. With a Cocktail Week Handbook, access to Special Signature Cocktail Menus, irresistible food offers and lots more, GCW is sure to stir the love of cocktails and blend in the party feel all across the 3-day celebration.
Event details:
Dates: 17th – 19th June 2022.
Time: 12PM-10:30 PM
Venue: Horizon Plaza, Golf Course Road, Gurgaon
Access: The entry passes for Cocktail Week Gurgaon Edition are available on Paytm Insider. The entry passes will be sold for INR 499. The ticket purchased online can be shown at the booking office in exchange for their daily bands.
For more details, follow Facebook page: https://www.facebook.com/cocktailweekindia/
For more details, follow Instagram page: https://instagram.com/cocktailweekindia?igshid=YzAyZWRlMzg=
For a detailed event calendar and exhaustive list of bars, bartenders, events and passes, visit: https://insider.in/cocktail-week-gurgaon-edition-2022-jun17-2022/event