Indigenous Rice Festival by Chef Rakesh Raghunathan, Sempulam (CIKS) and Wild Garden Cafe from May 13th to 24th, 2022 at Wild Garden Cafe, Amethyst, Chennai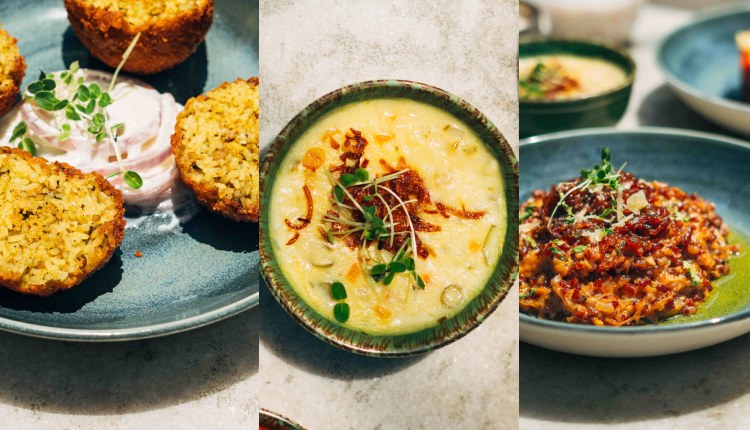 Sempulam (CIKS) has come together with Chef Rakesh Raghunathan and the team at Wild Garden Cafe at Amethyst for hosting an 'Indigenous Rice Festival'. The Food Festival is being organised with the goal of assisting / encouraging farmers to conserve and market their products, as well as raising awareness levels among the urban population between 10am to 11pm from May 13th to 24th, 2022, at Wild Garden Cafe, Amethyst, Chennai. Ph : 044-45991633 /34
The Rice varieties being used to prepare the meal are:
1. Kaivari Samba (Boiled)
2. Kuzhiadichan (Boiled)
3. Seeraga Samba (Raw)
4. Kalanamak (Raw)
5. Adukkunel (Raw)
6. Anandanoor Sanna (Raw)
7. Karungkuruvai (Boiled)
8. Mullan Kaima (Raw)
9. Sivappu Kowni (Boiled)
10. Navara (Raw)
11. Thooyamalli (Raw)
12. Thanga Samba (Raw)
Starters
Veg:
Kaivari Samba Ven Pongal Arancini with spiced tomato dip :
– Panko crumb crusted even Pongal balls deep fried with a cube of cheese and served with a gothsu/ tomato dip.
– Cooked with the exquisite tasting, calcium, magnesium and folic acid rice Kaivari Samba rice from the dry region of Thiruvannamalai.
Kuzhiadichan Egyptian Koshari :
– National dish of Egypt where lentils, rice and pasta are layered with tomato sauce, spice powders and finished with caramelised onions.
– The dish is prepared from the antioxidant, calcium and iron rich Kuzhi Adichan rice specific to the water starved Ramnadbelt.
Seeraga Samba Ramzan Nombu kanji (soup) :
– Served during the festive month of Ramadan across all mosques when they break the fast. Has a hint of coconut milk and the crunch of caramelised onions.
– Prepared from the traditional aromatic South Indian Biryani rice, rich in iron and easily digestible.
Non Veg:
Kalanamak Bannur mutton pulao arancini with yoghurt onion rings :
– Bannur, famous for mutton, is cooked in this aromatic green pulao which is coated with panko crumbs and deep fried. Served with yoghurt onion rings.
– Prepared from the exclusive, aromatic Kalanamak rice also known as Buddha rice. Has low glycaemic index, contains more than 40 minerals. Procured from Gorakhpur in UP which is the heart of this rice.
Mains:
Veg
Anandanoor Sanna Thengai paal sadam :
– Indigenous rice cooked with fresh pressed coconut milk, raisins, nuts & whole spices.
– Prepared from the unpolished delicious Anandanoor Sanna specific to the Andhra region.
Karunguruvai French onion risotto :
– Indigenous rice, slow cooked with caramelised onion, vegetable stock and finished with cheese and more caramelised onion.
– Cooked with the diabetic friendly, stamina providing, iron rich Karun Kuruvai rice also known as the "Man of the Match" by siddha physicians for its therapeutic properties.
Non Veg:
Mullan Kaima Kongunadu mutton Biryani :
– A closely held family recipe from the Kongunaad region. The secret flavour lies in the stone flower used in the recipe. Cooked with an indigenous rice from Kerala.
– Cooked with a traditional aromatic variety of rice grown by the tribals in the Wayanad belt of Kerala. Rich in minerals and vitamins.
Sivappu Kowni Thai Red curry chicken casserole :
– An unusual Red or brown rice pair with this classic Thai red curry cooked with chicken.
– Prepared from the sticky, zinc rich Sivappu Kowni table rice from the Nagapattinam belt of Tamilnadu.
Adukkunel Baked Mediterranean Rice :
– Wilted spinach, cherry tomatoes and spices layered with cooked rice and baked with cheese.
– Prepared with the protein rich Adukkunel rice specific to the Cuddalore region of Tamilnadu.
Dessert:
Navara Riz au lait (French rice and milk pudding) with espresso caramel :
– The French paal payasam where rice is slow cooked in milk, sugar and finished with an espresso salted caramel syrup.
– Cooked with the immunity building medicinal Navara rice from Kerala.
Thooyamalli Mango phirni tart :
– With mangoes fresh in season, a mango kheer poured over homemade tart cups and garnished with mango ribbons and nuts.
– Cooked from the slender, protein and mineral rich rice from Kanchipuram region of Tamilnadu.
Thanga Samba Akkaraadisil :
– A classic made in temple kitchens where rice is cooked along with moong dal in milk, jaggery and ghee along with nutmeg, mace, saffron and finished with nuts and a pinch of edible camphor.
– Cooked from the protein and mineral rich, slender Thanga samba table rice specific to the delta belt of Tamilnadu.