INOX celebrates World Popcorn Day with introduction of Two new Popcorn Flavors – Tandoori and Tiramisu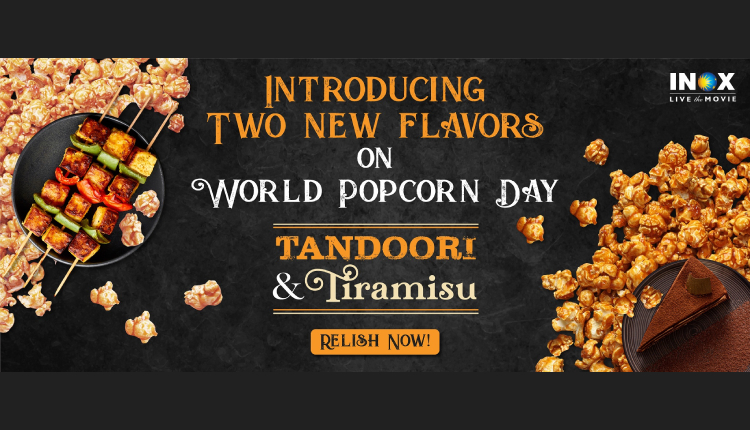 India's leading multiplex chain, INOX Leisure Ltd (INOX), today announced the launch of two new popcorn flavours – Tandoori and Tiramisu – on the occasion of World Popcorn Day 2022. The two flavor will add to the existing array of flavors at INOX, including Cheese, Caramel and Classic Salted. With an objective to offer delightful eating options to enhance the movie-watching experience, and to strengthen its F&B offerings beyond cinemas and cater to a wider set of audiences, INOX has launched these two delicious popcorn flavors, which are now available across all INOX multiplexes in major cities of India.
INOX has been innovating consistently to leverage the everlasting bond between movie watching and popcorn. These innovations have come in the form of a wide array of flavors that are on offer at INOX cinemas across the country, as well as the now-famous Popcorn Shake, which is a popular beverage sold exclusively at INOX.
Speaking of the new treat, Dinesh Hariharan, Vice President – Food & Beverage Operations, INOX Leisure Ltd. said, "Popcorn has been, and will always remain synonymous to cinema viewing, thanks to its unique characteristics. For us at INOX, Popcorn is the fastest-selling staple, and is the largest contributor within the overall food revenues. We at INOX, take a lot of care while preparing popcorn, to ensure that it remains warm, crunchy and fresh. Tandoori, being the most preferred Indian flavor with a universal recognition and appeal will connect immediately with our patrons due to its authentic piquant flavor. With Caramel being the most favored sweet flavour in India, we wanted to launch a value added version of the sweet popcorn hence we introduced Tiramisu flavor, a globally renowned Italian dessert. We have a strong understanding of consumer choices in F&B space and with the launch of these two new sumptuous popcorn flavours, we will certainly help in expanding our reach of F&B to masses."
INOX's new F&B roadmap includes new processes and exciting innovations, including making its food available on online food ordering platforms, Swiggy and Zomato. INOX has also introduced home-meal replacement options, by including meal options like Pulao, Biryani, Dal Makhani, the much-loved servings of Rajma-rice & Chana-rice, Pastas, Garlic Bread, Tandoori Popcorn and Chilli Cheese Toasts. On the beverage front, INOX has introduced a range of juices and mojitos, besides the introduction of our very own Popcorn shake. To satiate the sweet tooth, INOX will be introducing exotic jar-based dessert options like Tiramisu and Blueberry Mousse. Recently, INOX became the first cinema chain in India to get listed on the table reservation and food discovery platform, EazyDiner. INOX currently sells food under three brands i.e., Café Unwind, Insignia and Delights.
World over, 19th January is celebrated as the World Popcorn Day, to recognize the snack, which has stood the test of time, and has remained the staple diet of the cinema goers since ages. It is difficult to imagine a visit to a cinema for a movie, and not having a tub of popcorn in your hands.