Introducing Starbucks Season's Gifting – This festive season add the Starbucks magic to your corporate gifting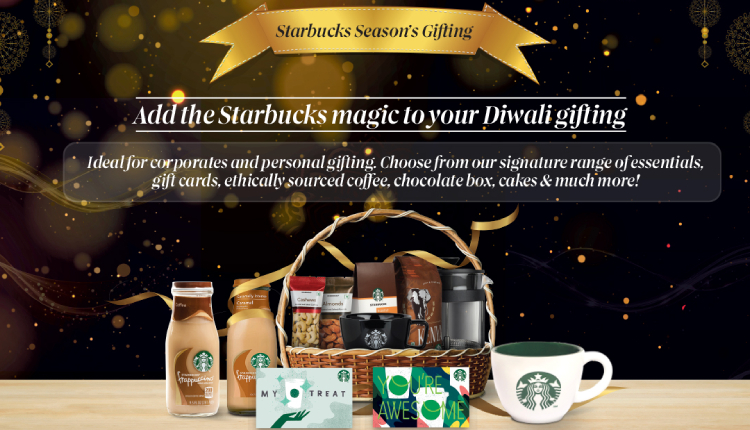 Staying true to its stature of an unparalleled coffee house experience, Tata Starbucks has announced the launch of its all-new corporate gifting platform that provides consumers, employees, business partners and clients an array of customised options to celebrate festive gifting.
Embracing the joy and elation of a gifting experience, the Starbucks corporate gifting collection features a variety of its signature offerings ranging from merchandise, speciality coffee, chocolates, gift cards to delectable treats and desserts, each carefully curated to make corporate gifting a seamless experience. One can also customize gift hampers as per their requirement. This gifting collection is the perfect convergence of style, class and elegance.
Starbucks® Hampers
Pamper yourself with our wide array of carefully curated hampers designed and tailored to suit every occasion. The variety of hampers include The Classic Starbucks Hamper, The Signature Starbucks Hamper, The Starbucks Indulgence Hamper and The Starbucks Luxury Hamper. These hampers are guaranteed to delight and spread the festive cheer wherever they go.
Starting from INR 1,500
Timeless Ceramic Mugs
Elegance has a new face with our iconic series of ceramic mugs which include our classic Mug with a wooden coaster, Iconic Siren Mug and Ceramic Black Latte Mug. These timeless pieces are in the range of INR 600 to 850.
Signature Mugs
The perfect brew of coffee deserves the perfect mug to hold it and what better way to achieve this than with our signature series of mugs. The unique variety of our signature mugs consist of Debossed Siren Black Mug, Classic Black Demi Mug, White & Green Siren Mug and our Signature Matte Green Mug. Starting from just INR 500 and up to INR 1,000, these classy signature mugs are guaranteed to attract a few wistful stares their way.
Been There Series
'The Been There' series provides you with a unique opportunity to flaunt your beloved city using nothing more than your very own coffee mug. Each mug in this series has been carefully crafted to best represent the rich culture of the city it represents.
Starting from INR 750
Celebrating India – A set of 3 demi mugs
The demi mugs in our Celebrating India series encapsulate the rich cultural heritage and diversity that India has to offer. The vibrant colour tones and vivid designs on each of these mugs will elevate your coffee experience.
(Set of 3) INR 2500
Tumblers
The Starbucks tumbler collection features White Marble Insulated Tumbler, Stainless Steel Etched Tumbler Black, Green Siren Stainless Steel Tumbler and Stainless Steel Wordmark Tumbler. It represents the perfect union of utility and style.
Starting INR 1,700
Stylish Water Bottles
The stainless-steel water bottles by Starbucks are a perfect mix of elegance and functionality. The Mint Coffee Leaf Stainless Steel Water Bottle, Green Cherry Leaf Stainless Steel Water Bottle and the Green Wordmark Stainless Water Bottle are some of the classics from our range of leakproof water bottles.
Starting INR 2,200
Colour-Changing Reusable cups
The colour-changing reusable cups (set of 5) change colour when you add a cold liquid to them. That alone should be a reason enough to possess this unique item.
INR 1800 for a set of 5 cups
The Classic Starbucks® French Press
The ability to brew the perfect cup of coffee is a skill not many can boast of. Fortunately, with our quality range of French Press you can sit back, relax and enjoy the perfect cup of coffee.
Starting INR 1700
Starbucks VIA® Instant & Whole Bean Coffee
The premium range of instant coffees such as VIA® Italian Roast and VIA® Colombia along with our wide range of whole bean coffees like Italian Roast, Kenya, India Estates Blend and Sumatra is a treat for the senses.
Starting INR 650
Range of Decadent and Indulgent Cakes
Celebrate milestones by pre-ordering Starbucks' range of decadent and indulgent cakes. Add some sweetness to the season of festivity with New York Cheesecake, Dutch Truffle Gateau, Red Velvet & Orange Cake and Coffee Hazelnut Crunch Cake.
Starting INR 750
Bottled Frappuccino®
Enjoy bold and delicious flavours with every sip of our bottled Frappuccino®. These bottled Frappuccinos® come in Coffee, Caramel and Mocha flavours.
INR 275
Starbucks® E-Gift Card
Starbucks® E-Gift cards are a perfect gifting option for all coffee lovers. They are easy to send and delightful to receive and are a thoughtful way to show customers and clients that you appreciate them.
Corporates can place bulk orders by contacting Starbucks at [email protected] or +91 80974 62825.