TACO BELL INTRODUCES 'CHEESE MAX BOX' FILLED WITH MEXICAN-INSPIRED DELIGHTS TO SATIATE YOUR CHEESE CRAVINGS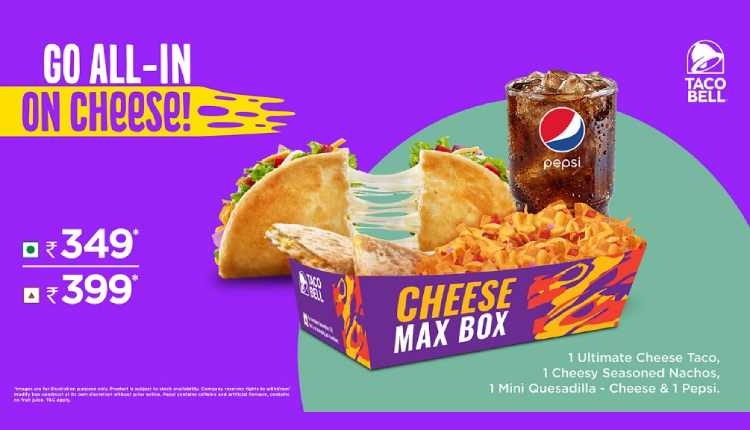 Taco Bell, the world's leading Mexican-inspired restaurant brand, has launched 'Cheese Max Box' – a wholesome experience for all cheese lovers. This innovative meal box is a new and indulgent offering that is designed to delight consumers, encouraging them to go-all in on cheese and conveniently savour their favourite offerings in one single box.
A permanent addition to Taco Bell's delectable menu range, 'Cheese Max Box' aims at providing a unique meal option to consumers who are looking to satiate their cheese cravings. The go-to combo comprises of four items – The Ultimate Cheese Taco, Mini Quesadilla-Cheese, Cheesy Seasoned Nachos & Unlimited Pepsi. The star-product of this combo is The Ultimate Cheese Taco which is a craveable offering filled with the goodness of mozzarella cheese along with two-blend cheese & Taco Bell's signature exotic ingredients on top. While the product was introduced as a limited time offer, it garnered a positive response from consumers, which extended its presence on the menu and marked its entry into the newly introduced meal box. The 'Cheese Max Box' is priced at INR 349 (for vegetarian variant) and INR 399 (for non-vegetarian variant).
Commenting on the introduction of this new offering, Tushar Mehta, Assistant Vice President – Marketing, Burman Hospitality Private Limited, Taco Bell's exclusive franchise partner in India, said, "At Taco Bell, we endeavor to stay true to our consumer-first promise and constantly provide novel experiences that our consumers cherish. Today, the Gen Z audience is looking for food offerings that are not only diverse but also available at one-stop convenience. In alignment with this, the idea behind creating an all-in-one offering is to cater to the evolving consumer preferences and drive more tastings. The Cheese Max Box is an assortment of the consumer's cheesy favorites that have permanently made it to the Indian menu. After the success of Grilled Cheese Burrito & Quesadilla and The Ultimate Cheese Taco, we are confident that this wholesome offering will also garner umpteen consumer love and satisfy the cravings of all cheese lovers."
The unique 'Cheese Max Box' bundle is an apt tribute to Taco Bell's #LiveForTheCheese campaign that started with the introduction of the craveable Grilled Cheese Burrito & Quesadilla and The Ultimate Cheese Taco.
Head to your nearest Taco Bell restaurant or simply order online (via the Taco Bell App or food aggregators) and call for the 'Cheese Max Box' to get in on some cheesilicious action.