This Diwali wish your loved ones extra special with a bite of sweetness By Sheraton Grand Chennai Resort & Spa, Mahabalipuram exotic hampers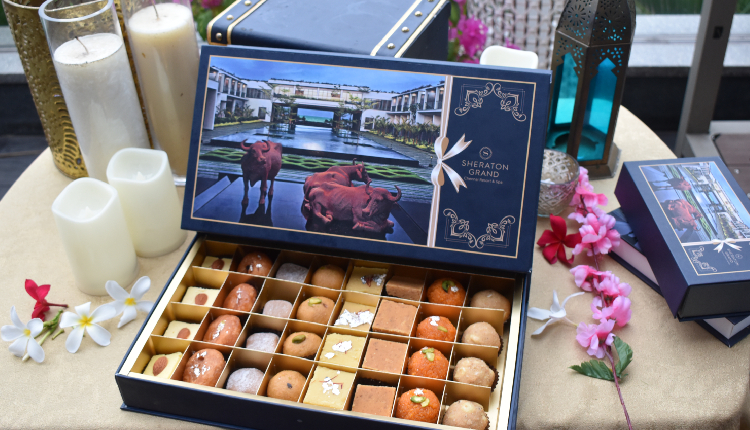 Surprise your loved ones and Business associates with Sheraton Grand Chennai Resort & Spa handcrafted Diwali hampers that will leave them sparkles this Diwali. Our chefs have curated the festive-themed box with delightful treats that will immerse you into rich Indian flavors in every bite.
You can choose from a variety of classic Indian sweet boxes with assortments of Mohanthal, Mathura Peda, Besan Ladoo, Chandrakala, Motichoor Ladoo, Karachi Halwa Barfi, Ghee Makhana, Churma Ladoo, Milk Mysore Pak.
"At Sheraton Grand Chennai Resort & Spa, we aim on bringing you specially curated traditional sweets for you and your family to create unforgettable memories, Since Diwali is known for its Authenticity and tradition, celebrate joy of lights and gifting you and your loved ones the best authentic experience with our Mithai box filled with variety of milk and ghee sweets to choose from." Said Deva Kumar Executive Chef– Sheraton Grand Chennai Resort & Spa, Mahabalipuram.
The Celebration Assortment: 32-piece box set weighing between 1.2kg-1.4 kg. INR 1499 + taxes
The Festive Assortment: 16-piece set weighing between 500gms-600gms. INR 799 + taxes
The Delight Assortment: 6-piece weighing between 250gms-300gms. INR 499 + taxes
Bring home the festive cheer or share the warmth of gifting with your loved ones as you make Sheraton a part of your festive celebrations this season.
For enquiries and pre-orders kindly contact
Email: [email protected]
Phone: +91 9384832953