For Two Nights Only, The Pontiac Takes Over Olive Bar & Kitchen, Bandra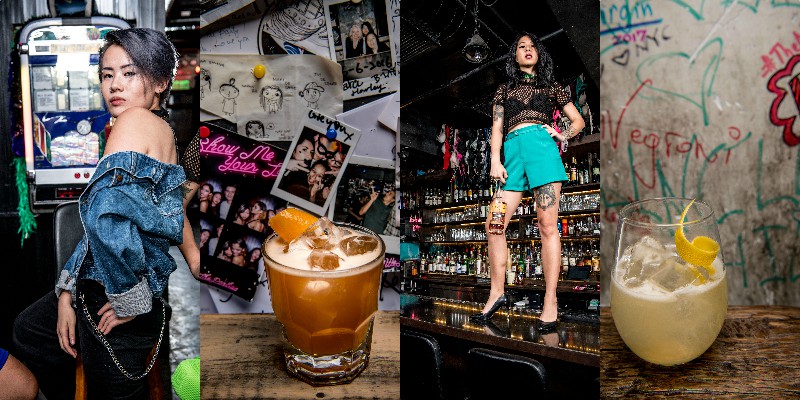 Olive Bar & Kitchen, the Olive Group's flagship restaurant in Bandra which has been a mainstay in Mumbai for the last 18 years is delighted to announce a collaboration with The Pontiac, a craft cocktail dive bar in Hong Kong, focused on inclusivity. On Asia's 50 Best Bars list since the inception of the awards in 2016, The Pontiac is known for its well curated cocktail list featuring only nine highly unique, signature drinks.
On Friday, August 2 and Saturday, August 3, 2019, Tink Aira Chan and Arlene Wong will get Mumbai in party mode, with six of their best-selling cocktails. On the limited-edition cocktail menu will be the bar's most popular cocktail to date, The Hobnail, rye whiskey, house-made ginger syrup, lemon juice, Averna and Angora bitters; the tropical yet funky Dope Slap, Pisco, Giffard banana liqueur, lemon juice, Laphroaig, sugar syrup and orange bitters; My Name is Nobody (MNIM), a chili-hot take on the classic Negroni, made with Chili-infused Bacardi carta blanca rum, Vermouth Rosso, Aperol and Fernet branca; the sweet yet tart Snake Sour, Plantation dark rum, Amaretto, house-made, spiced rhubarb bitters, lemon juice, sugar syrup and egg white; Heisenberg, gin, vermouth bianco, blue curacao, lemon, simple syrup, and absinth; and Rainbow Maker, a shot of Jameson and Budweiser, infused overnight with pickle.
In Hong Kong, The Pontiac boasts eye-catching décor along with a retro rock-n-roll vibe, that is both fun yet still pays homage to the theme of inclusivity that is so important to everyone involved with the bar. In keeping with this philosophy (which is also one that Olive prioritizes and promotes, with their on-going LGBTQ nights), the entire look and feel of the bar at Olive will be transformed. Elements will include neon lights, feather boas, a disco ball, Pride flags, and a whole lot more, creating a visually exciting space with a strong message at its core.
Hong Kong native Tink Aira Chan, aka "The Slayer," is the Lead Bartender of The Pontiac.  The Pontiac's female-centric, rock 'n' roll ethos, and philosophy of inclusivity and acceptance mirror that of Tink's values as a person and in bartending.  A young veteran in hospitality, she began bartending at 18 years of age in two of the coolest Wan Chai alley bars, Djibouti and Ted's Lookout, where she quickly become noticed for her speedy yet elegant technique.  Tink has also worked as a veterinary assistant and is currently studying and honing her skills as a graphic designer.  All this whilst working full time as The Pontiac's number one graceful yet deadly slinger behind the stick.  Her presence is not one to be missed.
Arlene Wong is a bartender, restaurant operator, and a powerhouse in the food and beverage scene. Her passion for hospitality started while living and working for over a decade in North America. Since returning to Hong Kong she has worked with several prominent restaurants and bars including The Butchers Club, Steakfrites, 11 Westside, Elephant Grounds and Wilshire. From restaurant management to operations manager of established hospitality groups in Hong Kong, the varied experience has earned her a strong reputation among her peers. Ever since joining The Pontiac, Arlene has been invited to showcase her skills at several guest shifts and competitions around Hong Kong. Including International Women's day at Stockton, which focused on female empowerment and hospitality in the Asia bar community. Recently, she had the opportunity to present her cocktails as the guest bartender for the JW Marriott 30th Anniversary. In recent months, Arlene competed as a finalist in both Four Pillars competition and Coffee in Good Spirit of Hong Kong.
This exciting collaboration is a part of Olive's new approach to its culinary and beverage programs, which are approachable and honest, yet grounded in technique and innovation. An emphasis is placed on choosing partners that share a similar philosophy, and who are pioneering new and extraordinary approaches to food and beverage.
For more information and to make reservations:
Olive Bar & Kitchen, Bandra
14, Union Park
Khar (W)
Mumbai – 400052
Tel: +91 22 4340 8229
Website: olivebarandkitchen.com
Instagram: @olivemumbai
Facebook: facebook.com/OliveBarAndKitchen
The Pontiac is a collaboration between Beckaly Franks and the Roopchand Brothers (Rohit and Harsh), the team behind the successful Fatty Crab and Co-Founders of Rummin' Tings, Amalfitana, Fratelli and 8 creATEive in Hong Kong and The Pontiac Stardust and Flat Stanley in Bali. In this project, the owners have been supported by industry veterans Proof & Company, the team behind some of Asia's Best Bars, Singapore's Manhattan and 28 Hong Kong Street. The Pontiac was voted #32 amongst "Asia's 50 Best Bars 2019" and #68 in the Bars to Watch list of "The Worlds 50 Best Bars 2017".
Instagram: @wearethepontiac
Facebook: facebook.com/thepontiac