Meet Guru Guhan, An Enthusiastic Young Vocalist from Chennai: A Member from a Music Community 'On the Streets of Chennai'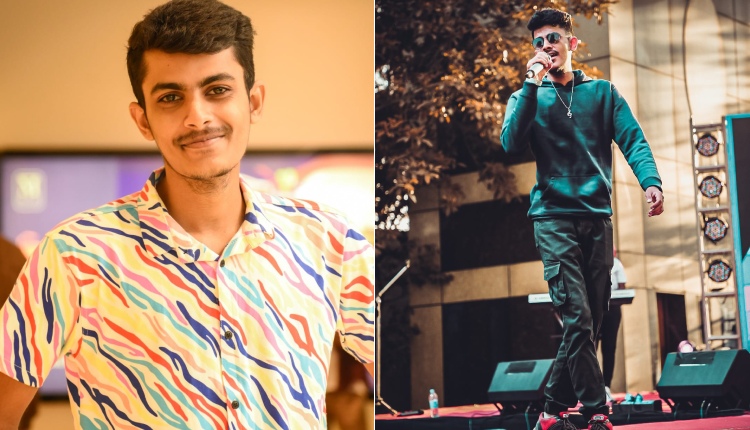 "If Music be the food of Love, then Play on…" wrote the Father of English Drama, William Shakespeare. As rightly said, Music is considered to be an ultimate medicine for many reasons. It heals, boosts and spreads happiness. Eventually, it becomes an indispensable thing in every human's life.
With the right quote, we are glad to introduce you an enthusiastic, young Vocalist, Guru Guhan. The 23-year-old Singer is a former IT professional and is currently pursuing MBA degree. Meanwhile, he becomes a full time Singer and is happy mentoring kids as well.
We caught up with Guru at Pondy Bazaar while he was getting ready to perform his 100th show last Sunday. He constantly performs during weekends at Pondy Bazaar and CSB CAFE (Chai Suta Bar) under a renowned Music Community, ON THE STREETS OF CHENNAI, that is on process to make Chennai the "Street Music Capital of the World".
Notably, Guru Guhan qualified as one of the Top 25 contestants in ZeeTamil's Singing Reality Show, Sa Re Ga Ma Pa, Season 3.
Excerpts from an interaction with Lifeandtrendz.com
What first got you into singing?
Music evolves things. I have been so passionate about singing ever since I was a kid. I started my singing career at the age of 4 and it continues still.
What influences you to be a singer?
There's nothing that influences me but I embrace my gifted talent. I want to expose it and wish to give my best to the world.
What skills you learnt are helpful for your singing profession?
Speaking of skills that help, all I can say is – 'Practice'. Of course, "Practice makes a man perfect." To have your voice perfect while performing, practice can help. I went for music class and learnt to tune my voice. And My Father, Mr. Ganapathy Subramaniam, is also into Keyboard playing. He used to mentor me when I was young as well.
Tell us about your journey into the Music Community, "On the Streets of Chennai".
The Music Community was started in 2019 with only four members and currently it consists of 800+ members. They perform at various places of Chennai to make people's day. My journey into the band was when I saw a group of people busking on the streets, I asked them for an opportunity to perform. And that's how I got into the Music Community and started spreading smiles.
When and Where was your first performance happened? / How did you feel about it now?
Pondy Bazaar is where I first performed. It is my 'dream come true' place. It incorporates such a vibe that many people choose to come here to relax and hang out.
How supportive are your parents for your entertainment career?
My parents gave me 100% support for my singing career and they didn't stop me from doing it. Instead, they just let me do what I wish to do when it comes to music. They are really happy for me.
You were ranked in top 25 contestants of a singing reality show, Sa Re Ga Ma Pa. How was your overall experience?
It was pretty good. The participation was the most happiest thing that could ever happened in my life. That was beyond expectation and dream come true moment.
What are the differences you experience while performing in a reality show and under a band?
I do not feel any difference while performing at two different situations. It is more like I am performing in front of my people and love entertaining them.
What will you do if your audiences turn bored or tired?
Using my voice, I give some drugs to them. I ensure to keep them engaged while performing, making them sing along with me.
How do you manage performance anxiety?
I have no performance anxiety. I just want to make the vibe clear.
Describe about your practice session before performing
When it comes to practice – I have been there in this community for past 4 years. I've performed with various teams under the music band and its all about team sign. I know them very well and will manage things while performing to avoid disturbance. Also, we have a set of songs to perform, beforehand. Apart from this, we will perform if audiences come up with their choices.
Tell us your most favourite and least favourite part of being a singer
I usually jump while singing, in excitement. Especially, when the audiences start grooving while I am performing, I just join them to dance. One such happy situation happened here in Pondy Bazaar when I was surrounded by 100+ people and vibing to the songs I sung. This is my most favourite part of being a singer.
My least favourite part may be — when I was a kid learning music, I got a lot of scolding from my Father as I did lot of mistake. My Dad is well-versed in Carnatic music and he taught me a lot regarding music.
Heard that today is your 100th performance overall. Congrats on that. So, how are you feeling about that?
I'm feeling very happy about it. I want to make something great today and enjoy with my people who present here. I will do my best.
Check out the glimpse of his 100th performance here: https://www.instagram.com/p/Cq180ZqJ1VR/
What would you like to say to those look up to you?
I would love to teach them when they are keen about singing. And just encourage them to do better and shine like a Rock Star in their life.
We will be delighted to have your thoughts and feedback. Please write to us at [email protected]
Follow Life and Trendz on Instagram:https://www.instagram.com/lifeandtrendz/
Facebook: https://www.facebook.com/lifeandtrendz
Twitter: https://twitter.com/LifeandTrendz