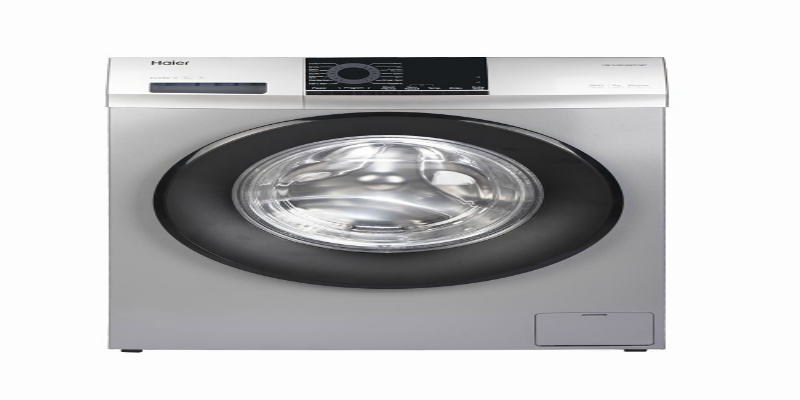 Haier Introduces New Front Load Washing Machines for a Better Laundry Experience
Launches new range of front load fully automatic washing machine that provides deeper cleaning and extra care to the fabrics
Comes with A+++ -30% Energy Rating as per European Standards, which saves 30% energy consumption and muscular drum technology
New Delhi, 30 July, 2019: Haier, the global leader in Home Appliances & Consumer Electronics and World's Number 1 brand in Major Appliances for 10 Consecutive Years*, augmented its washing machine line-up for 2019 by introducing the new series of 829 Front Load Fully Automatic Washing Machine. The new HW70-IM10829TNZP and HW65-10829TNZP models come with 7Kg and 6.5 Kg capacity respectively.
The state of the art Muscular Drum washing machines incorporates unique 128 muscles technology that ensures better scrubbing of clothes with lesser abrasion while providing extra care to the fabrics. The washing machines come equipped with Haier's anti-bacterial technology, which kills up to 99.8% germs thereby providing a clean and hygienic wash. With up to 1000 rotations per minute, the LED display panelled washing machines cleans garments faster than contemporary washers do.
In the 7kg capacity model, Haier has introduced Invertor Motor Technology, which is deigned to consume less energy than conventional motors while producing minimal noise, abrasion and vibration. Understanding the growing energy-saving needs of the consumers, the washing machine has A+++ -30% Energy Rating as per European Standards, which saves upto 30% energy consumption.
Commenting on the launch Mr. Eric Braganza, President, Haier India, said: "We at Haier are constantly committed towards meeting the growing demands and changing preferences of our customers. In today's fast-paced modern lifestyle, consumers want washing solutions that are quick, fuss-free, all in one and convenient. With the introduction of our 829 series, we are offering a luxurious design with highly advanced features to serve the customers with best in class technology and holistic washing experience. For Haier, Indian families remain to be a priority and we'll continue to deliver the customer-inspired products to enhance the experience of every Indian household."
Additionally, the washing machines have Haier's revolutionary Near-Zero Pressure technology, which addresses water pressure issues that Indian families face while washing clothes. The unique feature helps the machine to work efficiently with a low water pressure of 0.001-0.002 MPA. With all top-notch features and abilities, the new HW70-IM10829TNZP comes with 3 years comprehensive & 12 years warranty on Motor and the HW65-10829TNZP comes with 2 years comprehensive & 10 years on motor.
Price and availability: The new front load washing machines are now available in the market and are priced as follows:
HW70-IM10829TNZPH |INR 35,990/-
HW70-IM10829TNZPH |Dealer Price |INR 35,240/-
W65-10829TNZP | INR 32,990/-
HW65-10829TNZP | Dealer Price |INR 32,240/-
ABOUT HAIER INDIA
Initiated in January 2004, Haier Appliances (India) P. Ltd is a 100 percent subsidiary of Haier Group. Headquartered in New Delhi, Haier India has 33 operations and a vast distribution network across the country along with a manufacturing facility in Pune, Maharashtra. Product offerings of Haier India range from refrigerators, air conditioners, washing machines, TVs, water heaters, freezers to microwave ovens, with a special focus on local needs. For example, washing machines that work at nearly Zero Water Pressure help solve the biggest challenge that Indian consumers face in their daily lives, while Haier Bottom Mounted Refrigerators have also been well received by Indian consumers due to its large refrigeration capacity which caters to local people's dietary habits. A larger refrigeration capacity means consumers can store more vegetables while the refrigerator also makes people's lives easier by placing the refrigerating chamber at the top of the machine.
ABOUT HAIER GROUP
Haier Group today is the world's leading brand of major household appliances which is now transforming from a traditional manufacturer to an open entrepreneurship platform. In the era of the Internet and post-e-commerce, Haier will extend its ecosystem to social networks and community economies while enhancing the user value of Haier products and services and instilling integrity as a core competency throughout the Group. Haier aims to become a global leader in the era of the Internet of Things.
Revenue generated by the traditional economy: Haier Group's global revenue in 2017 was US$ 37.2 billion, with year-on-year growth of 20%; total pre-tax profits exceeded US$ 4.62 billion, profits achieved year-on-year growth of 12.8%. Currently, the Group's brands include Haier, Casarte, GE Appliances, AQUA, Fisher & Paykel, Leader, RRS, DCS, and Monogram. Each brand has its own unique market positioning and provides outstanding user experiences for end-users. Haier is now further deploying and demonstrating the effectiveness of the Rendanheyi management model and will internationalize Rendanheyi through its unique cultural integration system.
*According to the Euromonitor ranking 2017