An Indonesian Trail at The Dining Room, Park Hyatt Chennai
Spice journey with the Indonesian Food trail
True to his style of cooking, Chef Teuku Syafrulsyah, our Executive Chef takes you on a spice journey with the Indonesian Food trail at The Dining Room this January. Featuring an amalgamation of wondrous fresh meat & vegetables, exotic spices, hawker style of cooking and his favourite dash of delicacy, Indonesian flavours will take over the Dining Room starting 20th January up until 29th January 2017.
This paired with a variety of Ice Teas, from our Ice Tea promotion would make for the perfect combination, as we swish our way through the very first month of the year.
Some of the dishes to look forward to from our rotational buffet menu would be:
Soup & Noodles
laksa Jakarta – creamy prawn and chicken noodles
soto madura – chicken and glass noodles soup
Salads
selada udang –  prawns salad, spicy coconut dressing
Curried and Stews
kari kambing –  lamb shank in spiced coconut sauce
sambiki santan (V) –  five spice pumpkin braised in coconut milk
Stir fried                      
sambal udang – prawns, tomato sambal
Char grill
satay campur – mixed satays, peanut sauce, pickles
Rice
nasi goreng – fried rice, chicken and shrimp
Dessert
dadar gulung – coconut and jack fruit pancake, coconut ice cream
Please note: – The buffet menu will change on a rotational basis. 
See Also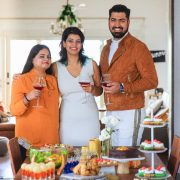 Date:- Jan 20th to 29th
Time: 12 P.M to 3:30 P.M. & 7 P.M. to 11 P.M.
Price: INR 1350 plus taxes for lunch
INR 1600 plus taxes for dinner
Venue: The Dining Room, Park Hyatt Chennai
For details and reservations, please call The Dining Room – Park Hyatt Chennai on 044 4991 9965/044 4991 9961